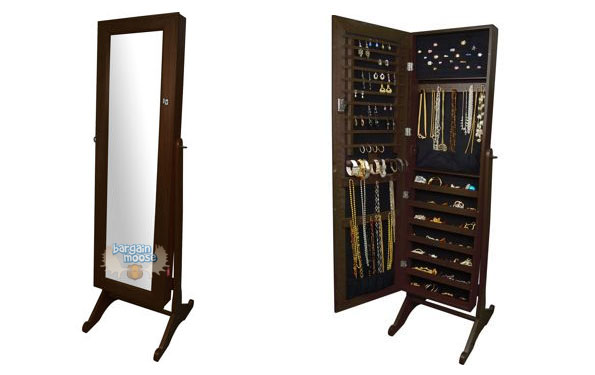 Is your jewellery always scattered all over the place? Organize it with the Elise brown jewellery armoire, which is now on sale for just $169.99 (reg. $249.99) at Costco.
A couple of months ago, I was very tempted to get the Anika dresser top jewellery box at Costco but ended up buying it for a friend instead for her birthday. I'm actually happy I didn't get it for myself also because I much prefer this mirror armoire instead. It's a free standing jewellery closet with enough hooks, ring bars and overall space to hold just about any jewellery collection. At first, I wondered if I would have enough room in my bedroom for this but considering it's only 4 inches wide and stands about close to 5 feet tall, I could definitely tuck it into a corner. I tend to scatter my make-up everywhere and so, I would definitely use it to put some essential make-up pieces to quickly use on my way out as well. It could even be placed in the entryway if you don't already have a mirror there.
The armoire can be tilted either up or down and comes in a brown colour with a veneer finish and solid wood. If you have little kids (or even big ones) that like to rifle through your collection, then it also comes with a lock and key for security.
Since necklaces are the worst to organize and keep untangled, I love that it comes with plenty of hooks. You could either use one necklace per hook or hang several ones on the same one (perhaps the thinner necklaces together and the rest on all the other hooks). You also won't have to worry about your jewellery getting scratched as the armoire comes with a Jewel-Protect lining.
As far as price comparing goes, I found the mirror with jewellery cabinet at London Drugs for $129.99 at but it doesn't look nearly as nice as Costco's one and it also doesn't have as many hooks or ring bars. In fact, Wagjag also has a cheaper deal available for a similar product: the wooden mirror jewellery cabinet for $150 but like London Drugs, it doesn't have as many hooks or bars and the ring bars are plastic instead of wooden like the ones at Costco. Walmart has a more expensive one at $199: the Brassex jewelry cabinet with mirror and Amazon has the Southern Enterprises wall-mount jewelery mirror for $217.45 but it's one that need to be hung up on a wall. Wagjag also currently has a similar mirror jewellery cabinet for %
It weighs 32lbs but luckily, you won't have to lug it around as Costco offers absolutely free shipping!
(Expiry: 27th July 2014)