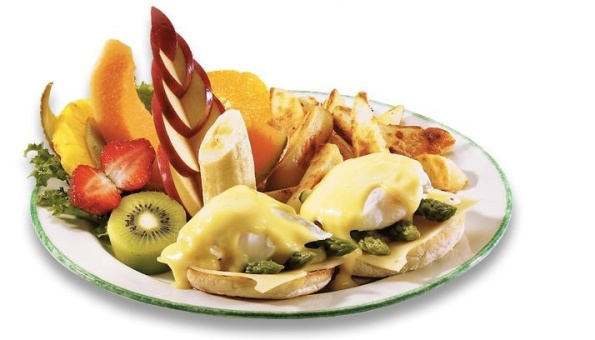 My son and I have been spending the last few afternoons finishing up our Christmas shopping. We went to Cora's for breakfast and learned about their advent calendar system. If you follow Cora's Canada on Facebook, you will see new tips and discounts released daily as part of their advent calendar. One of their promotions they have launched for their Holidays is the coupon for a free kid's meal when you spend $8 or more on a meal purchase.
You will need to follow that link, and print out the appropriate coupon to redeem this offer at your local Cora's Restaurant. You can use this coupon as many times as you like, but you are limited to just one coupon per customer per visit. I am actually quite a regular at our local Cora's. They have fantastic, healthy options that won't cost you an arm and a leg. The prices are even better when you take the free kid's meal into account. I usually get my son the Banana Pancakes, and he never completely finishes them. I bring them home and he eats them as a snack throughout the day. With this coupon, I won't feel like I wasted my money so much if he doesn't finish them while we are dining at Cora's.
Have you seen the mountain of fruit that comes with most of the Cora's meals? That may be my favourite part about dining there. The fruit is always something new and interesting, and brought out in an interesting display on your plate. Cora's is the first place that my toddler and I tried Dragon Fruit, and now are hooked. Cora's calls their kids' menu the "Kiwi's Menu" and it is available for kids under the age of 12. The meal will come with a drink as well, your kiddo can choose from juice, milk, chocolate milk, or a fruit drink. The kid's meals include:
P'tite Bedaaine
Panini de Nicky
Egg
Crepes
Waffles
Pancakes
French Toast
There are other coupons being released on the Cora's Facebook page during their Advent Calendar Promo, so be sure to have a browse through their timeline and see if anything suits your preferences. This particular coupon is valid through January 15th, 2016 so you can use it for the duration of both your Christmas shopping and Boxing Day shopping frenzy. There are plenty of Cora's locations, so I am sure you can find one local enough to you to make it worth while. Plus this is a great way to spend some quality time with the family.
(Expiry: 15th January 2015)