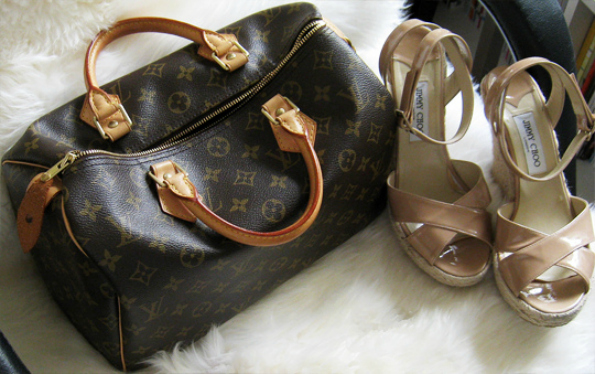 Constylement Canada has sent Bargainmoose an exclusive coupon code for 5% off any purchase of pre-loved designer goods.
Click here to view delicious designer deals @ Constylement Canada now
Coupon Code: HOLIDAYMOOSE
Discount: 5% off
Expiry: 10th January 2015
This coupon saves you an extra few dollars on amazing designer finds from other people's wardrobes. These bags, pieces of jewellery, scarves, and more have been gently loved and now need a new home.
My favourite item on the Constylement website right now is the Louis Vuitton Monogram Petit Noe for $595, originally $1270. While I am not fond of the LV monogram design nor colour combination, I do love the shape of this bag and think the size is just perfect for a daily bag. In addition, the price cannot be beat for an authentic Louis Vuitton. After coupon code, this bag comes down to $535.50. There is only one of these bags so do not hesitate or you may be too late.
For sellers:
As I mentioned, this is a two-part deal. If you have designer goods to sell, Constylement Canada is offering Moosers an extra 5% commission on their designer goods. That means you will make 75% back on the selling price of your designer goods instead of the usual 70% that Constylment offers. To receive this bonus you must mention that you found Constylement through Bargainmoose. As the average selling price is 40 to 70% of original retail price, you can certainly make back a good deal of your original investment in your designer item.
Curious about selling? Here are a few basics you need to know:
There is of course no fee to consign, and if the item doesn't sell, no charges are applied when the item is returned to the buyer.
Items must be valued at $200 or over. Bags, watches, wallets, and accessories are in the highest demand. Very select clothing (no shoes or sunglasses) will be accepted. You can consult the FAQ for any questions you may have. Quotes for anything you want to consign are free of charge and there is no obligation to consign the item after receiving your quote.
Right now, Constylment is only taking the following brands: Balenciaga, Dior, Gucci, Fendi, Prada, Miu Miu, Hermes, Louis Vuitton, Chanel, Tiffany&Co., Van Cleef & Arpels, Cartier, Rolex, Chloe, and Burberry. I am disappointed that they are not taking Alexander McQueen as I am always looking for places to buy pre-loved McQueen. He is one of my designer obsessions.
For this and future Constylement coupon codes, visit our forum.
Image credit: Maegan Tintari