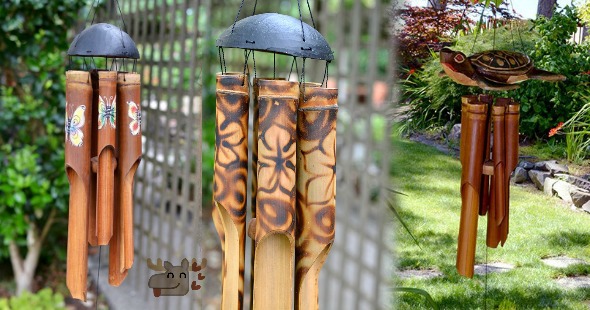 Think Christmas. Who wouldn't love a unique wind chime as a Christmas gift? I know my mom and grandmother would love to hang one up on their front porch. Shop at Amazon Canada and you can get these unique Cohasset Wind Chimes from as low as $7. Spend $25 to get free shipping, or if you are an Amazon Prime member you will get free shipping anyway.
Wind Chimes are just fabulous. I may be slightly obsessed with them. I have always preferred the bamboo orwooden wind chimes over the metal ones, the sound is just so much nicer to me. The sound of metal clanging together does not appeal to me, but I love the sweet sound of bamboo or wooden wind chimes. For as low as $7, you could have a unique wind chime of your very own. Cohasset wind chimes are on sale for up to 70% off at Amazon.ca for a limited time, so I wouldn't hesitate to add some to your shopping cart if I were you.
Unique items with butterflies painted on them always attract my attention. The Cohasset 163 Small Rainbow Butterfly Window Chime didn't fail me. Soon after seeing that the price was discounted from $18.48 down to $7.01, this item was added to my shopping cart.
Next in line was the Cohasset 166 Burnt Flower Small Wind Chimes. These chimes were the same original price of $18.48, but are now discounted to $7.74. These ones are fabulous for my grandmother. She is obsessed with flowers and I know she will appreciate a wind chime.
I know I have mentioned that these chimes are unique, but the Cohasset 157 Carved Sea Turtle Wind Chimes are really unique. They have beautiful bamboo chimes topped with a carved sea turtle for 54% off the regular price. These beautiful chimes would be a great addition to any home that perhaps has a pond? They were originally $50.20 but now they are just $23.33.
The great thing about these Cohasset wind chimes is that each one is totally unique because they are all hand made. They are made of a bamboo tube and hand painted. They give off a warm, relaxing tone. When it comes to shipping and handling, Amazon Prime members get totally free shipping. Otherwise you will need to spend $25 to get free shipping, but I am sure you can find a few wind chimes to cross off a few names on your Christmas list, right?
(Expiry: Unknown)