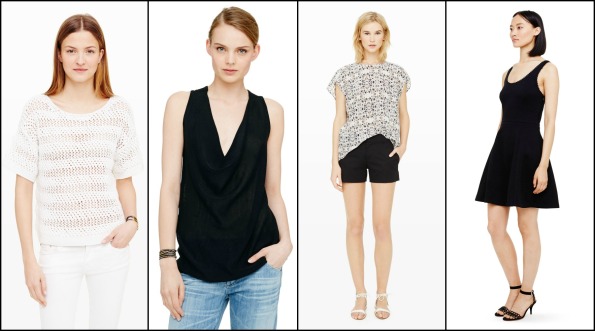 It is not often that this happens, but we have found two coupon codes that stack together over at ClubMonaco.ca! Use these codes to get an additional 40% off sale and clearance items, plus totally free shipping with no minimum purchase. How hot is that?! Club Monaco has high quality items with high prices, but in the clearance and sale section you can definitely get your hands on a bargain - especially with an additional 40% off! The free shipping is definitely icing on the cake since you would normally need to spend $150 to get free shipping.
These coupon codes have been tested by both Alexa and I, and are working! There is even a screenshot below to show you what the discount should look like in your cart. There are items on sale for as low as $19, which means you can get clothing and accessories from $11.40 including shipping. That's quite a steal of a deal when it comes to Club Monaco items.
Here are the coupon codes to get these hot discounts at ClubMonaco.ca:
Additional 40% off:
Coupon code: NEWYEAR
Discount: Extra 40% off sale & clearance merchandise
Expiry: 3rd January 2016
Free shipping:
Coupon code: PCN3052
Discount: Free shipping, no minimum purchase
Expiry: Unknown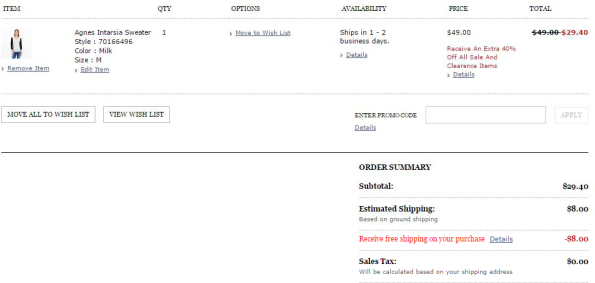 I headed straight to the women's sale & clearance section when I realized that these codes would combine. I was able to view all of the items, and sorted them by ascending price. I first noticed a variety of shorts on clearance sale from $129.50-$79.50 down to just $19. When you apply the NEWYEAR coupon code, you will be left paying just $11.40. That is a whopping 86-92% off the regular price. There are a few different pairs of shorts available for this price, so hopefully you can find a pair that has your size. Here are the shorts available for just $11.40 at ClubMonaco.ca:
There are also lots of other items available for huge discounts. While Club Monaco has named several of their tops as "sweaters", I would beg to differ. The Alexina Sweater Tank was originally $98.50 and is on sale for $29. With your additional discount you will pay just $17.40 for this stylish top. I also really like the Persephone Sweater. This top was $189.50 and is now on sale for $49. With the New Year discount of 40% off that price, you will be left with a price tag that reads $29.40.
Don't forget to check out more Club Monaco Canada coupon codes in our Bargainmoose forum. If you loved this deal, be sure to sign up for the email updates there so you don't miss out on future discounts from this popular retailer.
Normally ClubMonaco.ca would require you to spend $150 to get free shipping, which is quite a hefty amount. Otherwise the flat rate shipping fee would be $8, which still isn't bad considering the discounts you are getting with the additional 40% off clearance and sale items. Hopefully this little "glitch" sticks around long enough so you Moosers can reap the benefits!