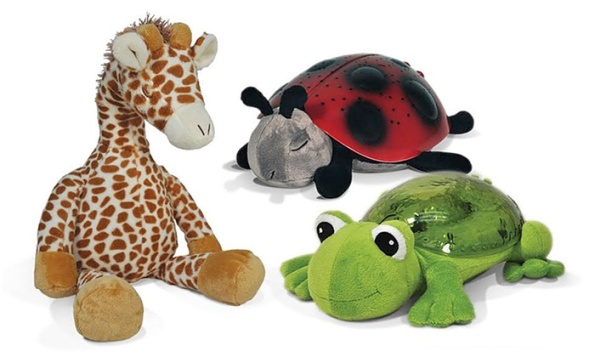 Go to sleep, go to sleep... please go to sleep!! If you find yourself needing a little helping hand getting your little one to fall asleep, then you might want to check out these Cloud B soothers and nightlights on clearance sale over at Walmart.ca for as low as $14.95. There are a few different shipping options too.
There are a few different types of Cloud B Soothers and Nightlights to keep any little one soothed while they are trying to fall asleep. I kind of want one for myself to be honest, but I know the kids would just claim it for themselves. The prices are quite reasonable too, with the lowest clearance price being $14.95. 
The Cloud B Dreams To Go Zoo Friendz Tiger is just plain old adorable. This compact twilight solution will transform any room into a gorgeous starry night to help get your little one to fall asleep into sweet dreams. The original price on this item was $26.97, but is now on clearance sale for just $18. There are a few other Cloud B soothers that are similar to the style of this one. Check 'em out:
If you prefer something a little more plush - try this Cloud B Gentle Giraffe Soothing Puppet which was originally $23.97 and is now on clearance for just $14.95. This is the least expensive option, and also the cutest in my opinion. There is also a ladybug and a turtle available for the same price. These adorable hand puppets even come equipped with soothing gel packs! This might just be the first kid-friendly hot/cold pack I have seen.
Do your little ones like sports? Then check out the Cloud B Sky Globe Sportz Starlites Football which is on clearance sale from $27.97 down to $18. This cute sports-themed Sky Globe will turn your child's ceiling into a starry night sky, and it will even look cool during the day too. There is even a basketball version.
Walmart.ca has a few different shipping options too. You can spend $50 and get totally free shipping, and that should be easy to do with all of their clearance deals right now. If you don't end up spending $50 though, you can always choose between one of their other shipping options. With no minimum purchase, you can have your parcel sent to your local Canada Post Office or your local Walmart Canada Grab & Go Locker for totally free.
(Expiry: Unknown)