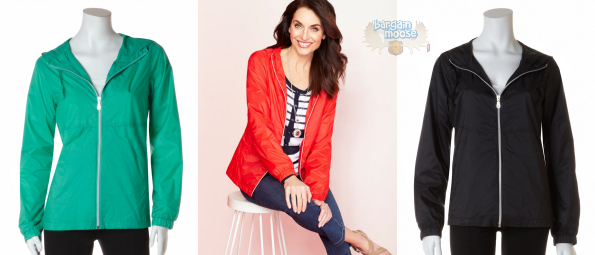 Cleo Canada has discounted the everyday Lightweight Nylon jacket from $69.95 down to $20.85. This jacket comes in a variety of colours and truly is a spring wardrobe staple.
Each colour of jacket has its own individual link, which is a bit inconvenient for linking. Thus, I have compiled a list of all colours with their respective deep-links. This jacket comes in five different colours:
Two of the jackets come in petite sizes and the other three are all regular sizes. Petite is perfect for women who are a bit on the shorter side as it compensates for a shorter torso and shorter arms.
There are three reviews on the Jade colour. One reviewer thinks that the jacket is poor quality, while the other two reviewers quite like the jacket. Out of the pleased reviews, one person had some trouble getting wrinkles out of the jacket when it arrived but was overall pleased. The other reviewer had absolutely no complaints. She said:
Bright and lightweight! You can tuck this little jacket I your bag if you get too warm.
All sizes are still in stock: from size extra-small through extra-large. Pretty much all the colours have full stock. Now, shipping would cut into this deal a bit, so you will want to get this shipped to your local store for free. I have done that with an order once, and it is simple. If you do want your item shipped, it costs $7.95 or only $2.99 on $50+ with coupon code SUNNY.
You will want to shop the rest of this sale as well. Except for outerwear, receive an extra 20% off all sale items. For example, the Waterfall Open Drape Cardigan was $59.95 and is now on sale for $19.99. With the extra 20% discount, the cardigan comes down to $15.99. This Solid Knit Pocket Front Tunic Sweaterand this Navy Pullover Tunic Sweater are also on sale from the same price ($59.95) down to $15.99 after the extra 20% discount.
The Light Pink Pointelle Lurex Scarf is my pick of the sale section. Add this beauty onto your cart. Originally $38.50, it is now on sale for $4.99. After extra discount, pay only $3.99.
This is a nice sale with the extra 20% off. Even without the extra 20% savings on outerwear, this jacket is a very nice price.
(Expiry: Unknown)