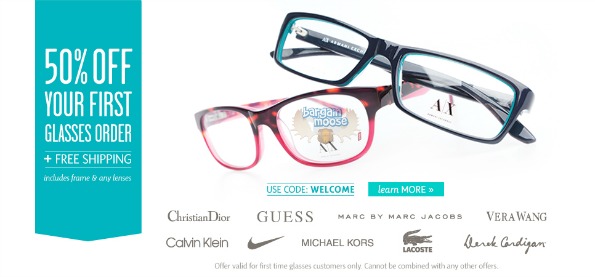 Right now, Clearly Contacts Canada has a promo code for 50% off your first glasses (frames and lenses) order, plus free shipping.
Click here to shop @ Clearlycontacts.ca
Coupon Code: WELCOME
Discount: 50% off and free shipping
Expiry: Unknown
Clearly Contacts makes it so easy to shop for glasses and contacts. I order all of my contacts from them and it is simple, to the point and I never have to leave the house.
Basically, you'll pick your frame out of thousands of options for men, women and children. You can shop by shape, material, style or type, so it is really easy to narrow it down if you know what you want. Designer glasses start at $59. You can choose what colour you like and read reviews of those frames. The measurements are listed so you simply have to measure your current glasses to know what type of fit you need for your own face.
The best part is the try-on view, where you can upload your own photo to see what you'll look like wearing those specific glasses. You can even save the ones you like in your favourites box, and come back and choose out of your picks.
Next, you'll choose the type of vision you need the glasses for. Enter your prescription from your doctor. Choose your lens type, whether it be standard or sunglasses. I wear glasses and don't understand how people can wear just their regular glasses in the sun. I have a prescription pair so I don't fry my eyes! Then, you can choose if you'd like a coating like scratch resistance or UV protective or anti-reflective. Choose all three and you'll save $10.
Shipping is free on orders over $99.
Check the Bargainmoose forum for more coupons for Clearly Contacts.