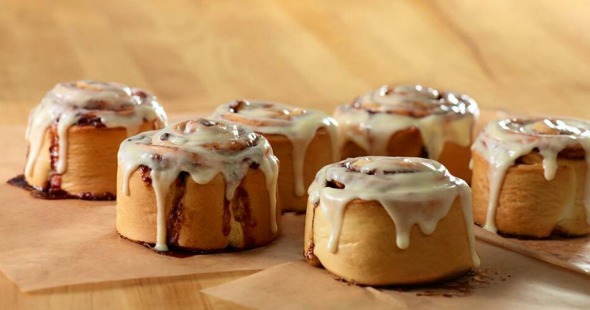 This Black Friday, Cinnabon has a sweet deal for you to enjoy while you are shopping those crazy sales tomorrow. Stop by the Cinnabon in your local mall and you can enjoy their Sweet Black Friday deal - a fresh baked Minibon Roll and a regular size coffee or tea for just $1.99. 
Now this offer is only valid until 11 AM, so it really is best for those of you who are planning on doing early shopping tomorrow morning. I mean, that is the best bet anyway if you are planning on shopping in physical stores. Otherwise everything will be picked through and the best deals (like this one) will be gone.
I am a sucker for Cinnabon, seriously. They used to have one in my local mall and it was a ritual for me to go get a cinnamon roll every time I went shopping. That Cinnabon is gone now, and my thighs are thankful. I do find myself occasionally going out of my way to find a Cinnabon and enjoy the delicious treat though. I have honestly never had a cinnamon roll anywhere else that even comes close to comparing.
If you don't want to indulge in a full Cinnabon, then the Minibon is the way to go. Especially considering you can get a Minibon and a regular sized coffee or tea for just $1.99. Where else can you enjoy an offer like that? Plus, Cinnabon's coffee is really quite decent. For the amount of coffee I drink,  you can take my opinion seriously I would think.
Don't worry about the calories and sugar! You are going to burn that off while running around the mall trying to get all your Black Friday shopping done. Chances are you're not just at the mall for Cinnabon, are you? So if you are planning on shopping near a Cinnabon before 11 AM tomorrow, then you might want to add this to your shopping plan for Black Friday. I know I would. We can all admit that life needs a little frosting, right?
(Expiry: 27th November 2015)