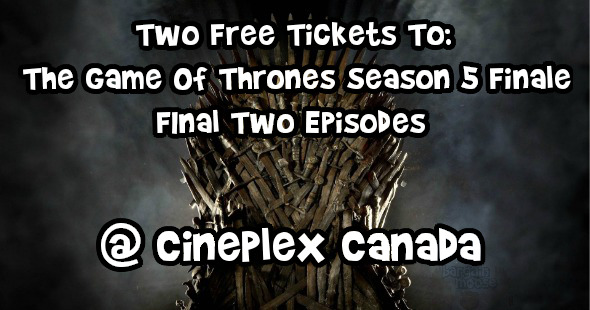 Game of Thrones fans, keep reading! Cineplex Canada is currently offering you two free admission tickets to see the final two episodes of season 5 on the big screen. Getting your two complimentary tickets is easy, but be sure to follow the directions to find yourself in a theatre stocked full of fellow Game of Throne die-hard fans.
HBO Canada and Cineplex have teamed up to offer Game of Thrones fans an opportunity to watch the final two episodes of Game of Thrones Season 5 at a Cineplex theatre. This screening takes place on June 14th, so make sure you have that date open before requesting your tickets. Quantities are limited so you don't want to take from someone who could view the show. You must also be a Scene member, since you will have to enter your Scene card number when you redeem your free tickets.
To start, fill out the form provided in the link above. You will have to enter your email, name and other simple information like that. Then you will get an email from Cineplex Canada. Mine ended up in my junk mail, so be careful you don't miss it. Then follow the steps in your email. Here are the steps necessary to receive your two free tickets to see the Game of Thrones Season 5 final two episodes at Cineplex Canada:
Head over to the Cineplex website.
Click where it says "find showtimes".
Select your city and the date of the performance.
Click on the showtime to get your tickets.
Enter your Scene card number and click the button that says "proceed". Keep in mind that you will not receive any Scene points, since this is a freebie.
This screen is very important. This is where you will need to enter the first voucher code into the promo code box. Once that has been applied (click "apply"), you can then enter your second voucher code and do the same.
Again, click "proceed".
Be sure to confirm your details and time.
You can choose to either print your tickets or send them to your mobile device. Either way, remember your booking ID. You can enter the booking ID at one of the ticket kiosks in any Cineplex Canada locations before you head into watch the final two episodes. Quantities are limited, but the expiry date of this offer is unknown.
(Expiry: Unknown)