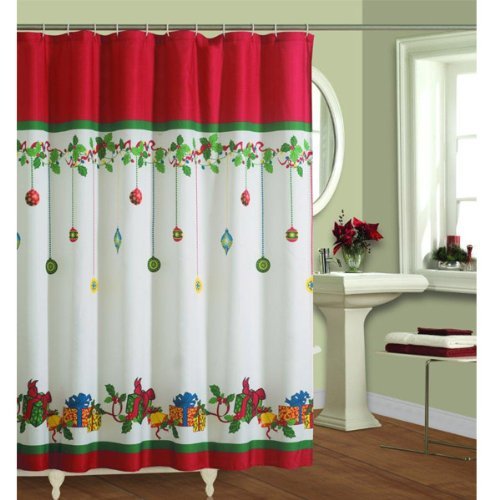 Do you know what the number one best-seller in shower curtains is on Amazon.ca? Well, I am sure you could guess… but you probably couldn't guess right. :p It's this Christmas-themed "gift box shower curtain" and it's currently on special offer! It's being discounted by 23% and you can get it directly from Amazon just now for only $21.54!
As this is sold by Amazon themselves, if you have Amazon Prime then you will get free shipping to your home. If you don't have Prime, then I'd say that you should make your order up to $25 or more in order to qualify for free super saver shipping.
The sizing is as follows: 70 inch by 72 inch. Go on – run into your restroom and measure up NOW!
I've been keeping my eyes out for Christmas merchandise for the last month or so, looking for weird and wonderful items to write about. And I think that this shower curtain certainly qualifies in those two categories!
Reasons why I LOVE this shower curtain:
It's CHRISTMAS themed
It's CHRISTMAS themed
You can buy a matching tier and valance for only $20.15!!
I don't actually user shower curtains in my home as the showers are all in their own encolsures. However, I can tell you that if I DID have regular shower curtains, I'd be ripping them down right now and ordering these ones on Amazon.
Can you imagine having this shower curtain in your home?
(Expires: unknown)