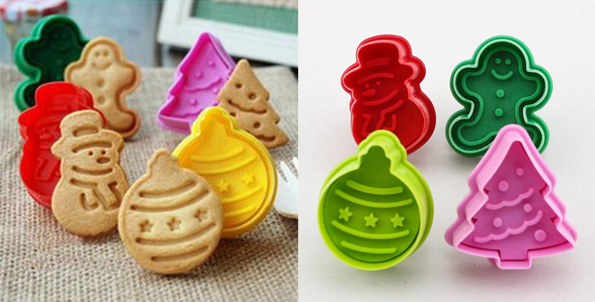 Oooh I am in the mood for baking today! While I might not be whipping up a batch of Christmas shortbread today, I will be getting ready to do that next month. I found these Christmas plunger cutters on Amazon and they're just adorable. And they're a sweet price too. You can get these cutters for only $8!
The above Christmas cutter plungers are shipped and sold by Amazon.ca themselves and therefore they're subject to Amazon's shipping policies. E.g. Free shipping for Prime members, or free shipping on $25+. And these will ship from within Canada so shouldn't take long to get to you too. There are only a few in stock as I write this, but Amazon say, "more on the way."
For $8, you get this set of 4 cutters, which are sized at 1 and ¾ inch each. That doesn't sound very large, so just make sure you take that into account when you are ordering. The colour may vary from what I have shown in the image above.
You know, now that I think about it, these cutters don't just have to be used for cookies. You could use them as molds for anything really… jelly, chocolate, even ice. How about some festive drinks with Christmas tree ice cubes!!
Now, I did spot that these plunger cutters are also for sale on the Hong Kong based marketplace, Aliexpress. They are only $2.22 there – but not everyone loves buying from sellers outside Canada. Plus, you've got added time on the order for shipping there (maybe 4-6 weeks). Totally your choice!
(Expires: Unknown)