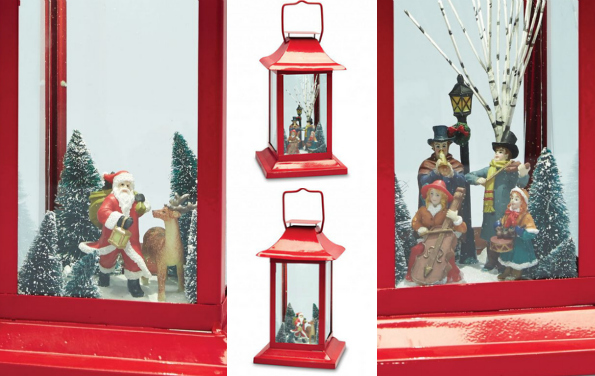 Christmas is coming and have you thought out all your decorations yet? I found these lovely Christmas-themed LED Lighted Metal Lanterns on sale at Sears Canada. Originally $34.99 each, they are now on sale for $26.24 each. Use coupon code941612464 to take an extra $10 off this sale price, bringing each lantern down to just $16.24 each. If you want both lanterns - the Choir and Santa - then place separate orders.
These Whole Home Metal Lanterns each have a Christmas scene within them that lights up via LED lights. The lantern is a good 10" high and 6" by 6" for a nice sized decoration. I like how the lanterns still has their traditional handle so you could hang these little Christmas scenes around your house.
The bright LED light provides a light for the Christmas scenes inside. I assume that these are battery operated, but the description doesn't say anything about what kind of batteries they take. I like that the lanterns are made of metal instead of plastic. I tend to think of metal products as a higher quality overall.
Pick your lantern or buy both if you want (though order them separately). One lantern has a nice snowy forest with lots of trees, a reindeer, and Santa with his bag full of goodies. The other lantern has a lovely choir of four children with various instruments. The lantern is complete with some snowy trees and a lamp post. Each is just darling.
I am not sure if you can put these lanterns outside, but it would be so cool if you could. If you have a covered porch, then they may be safe outside. I would only be concerned about moisture getting into the lantern. Double check the manual that comes with these lanterns before placing them outdoors.
These lanterns are exclusive to Sears Canada and just darling decorations for Christmas. Stick one on your fireplace mantel, use one as a rustic Christmas centrepiece for your table, or hang them up in the entrance to help people get in the holiday spirit. Receive free shipping to over 1300 Sears Stores and Sears Outlets across Canada.
(Expiry: 4th November 2015)