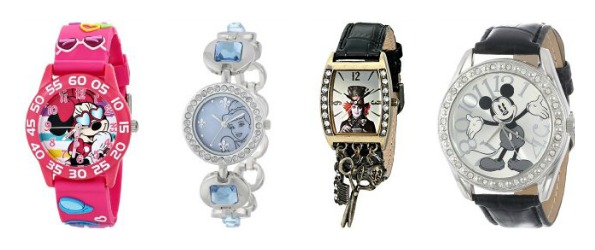 Time is ticking by with only 65 days until Christmas. Factor in all those appointments you have from now until then, swimming lessons, hockey school, visits to family, holiday parties and you better get moving on your shopping! Amazon has some sweet deals on to commemorate the passage of time with these very cool and cute Disney watches for men, women and kids. They've got up to 79% off and of course you'll get free shipping on a $25 spend or with a Prime membership.
Let's start with the biggest discount first and go on from there. This Disney women's Mickey Mouse silvertone case with pink dial and strap watch is regularly $33.60 and now only $7.15. This is a great gift for any lady who loves Mickey and Minnie (the description says its a Mickey watch, but it is actually Minnie), and I know a few ladies who do. I think this would be a perfect stocking stuffer! I actually don't like watches but I am in love with how cute this women's rhinestone accent tinkerbell with rubber strap watch is. It is almost a little sexy, if that is possible with Disney. Regularly $25, it is on sale for $9.79. Less than $10 for this watch is a steal.
Today is a friend of my son's birthday and he came over last night to show us the watch he got from his parents. He was so proud of that watch and went on and on about it. I also loved it because he is only eight and not really old enough for a phone, but old enough to play outside. But, when you send your kid outside and tell them to be home at a certain time and they don't have a phone or a watch, you set them up to fail. That is such a perfect gift for a kid because it is so practical, plus they love wearing it.
I am totally getting my oldest this Disney Pirates of the Caribbean pocket watch. He will love carrying this around because it looks super cool, but it lets him know what time he needs to be home! Regularly $44.79, it is on sale for only $18.35.
(Expiry: Unknown)