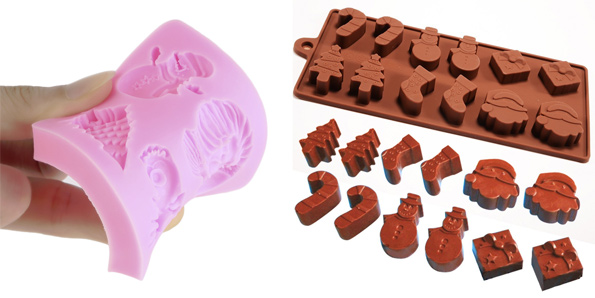 I'm on the hunt for some more Christmas-themed molds for some baking projects this year! I've found some sweet prices, many with free shipping. I'm seeing good deals both on Amazon Marketplace and on Aliexpress – you can have a browse of both and see if there are any you like! The best deal I found was $1.37 shipped… and then prices go upwards from that.
Something I wanted to highlight – there are many very similar molds for sale on both Amazon and Aliexpress – most are from China based sellers. It could be worth price comparing and making sure you have the lowest price on the exact mold you want. For example – this Christmas silicone tray is $6.99 with free shipping from Amazon marketplace and for this one, I can only see it at higher prices on Aliexpress.
As I mentioned, one of the lowest prices I could see is $1.37 shipped – that was for this Christmas baking mold hereon Aliexpress. This looks really cute – it has 8 different shapes in it, and could be used for decorating your baked goods.
Another one of the lowest prices including shipping was for this DIY Christmas tree silicone mold which comes to a total of $1.64 including shipping from Aliexpress. That particular mold has space for three Christmas trees; it's 7cm in diameter and 1cm deep. That doesn't sound huge – I reckon that the finished items would be fairly small. Take that into account!
I really like this Freshware Silicone mold here on Amazon, it's priced at $9.99. This one is actually sold by Amazon themselves – it's out of stock at the moment, but Amazon actually let you place the order and will ship it out when they get them back in stock. This one would be super for making some Christmas chocolates!
For many of the above, shipping will be a little slow – it will tell you how long it should be on each individual listing. Remember that if you order from the likes of Aliexpress, you won't get your parcel through the door within a couple days, it can take a bit longer.