I know it feels like the Christmas season just ended, but there's another holiday around the corner. Valentine's Day is less than a month away, and (as somebody who loves reading), I don't there's any better way to celebrate than with a new book. I personally plan to treat myself to The Dutch House by Ann Patchett as a little V-Day present, but let's face it: the best books actually about Valentine's Day are for kids.
As is the case every year, publishers just released a bunch of new books to mark the holiday, and a few caught my eye right away. Whether you're a parent, teacher, aunt or uncle, I bet there's something your preschoolers and elementary-school aged littles will love – which is why I put together a quick list of new books.
I chose books that are currently in stock at Chapters (or will be soon), but you can find many of them on Amazon or at other stores that sell children's books. They all specifically relate to Valentine's Day or discuss love, friendship and kindness – all the things that'll make you feel warm and fuzzy during bedtime stories. Plus, let's face it: the kids definitely don't need another stuffed animal this Valentine's Day.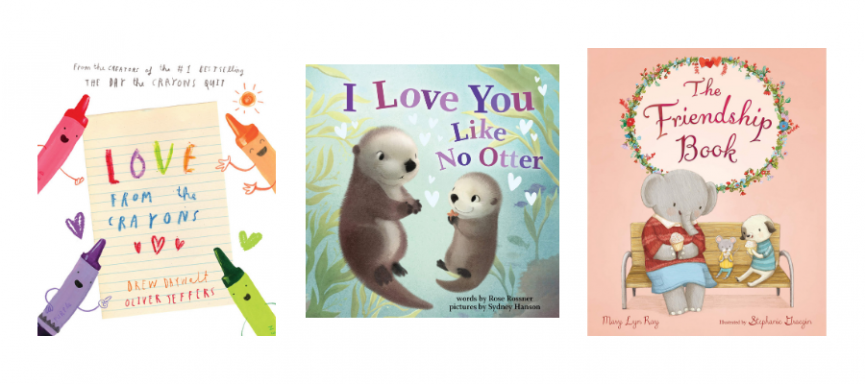 1. I Love You, Baby Shark!
This franchise exploded! Luckily, I don't hear the Baby Shark song everywhere I go anymore, but I do know a few kiddos who'll sing it at every opportunity. There are Baby Shark hand puppets, bath toys and clothes out there, so adding I Love You, Baby Shark! to the list definitely wasn't an unexpected move. The paperback sells for $8.99, and it's the latest title in a collection featuring the Mommy, Daddy and Baby we all know.
2. Love from the Crayons

I fell in love with these crayons a little while back, and I'm so excited that one of my nephews is really getting into these books. You've probably heard of The Day the Crayons Quit, and this new book features the same cast of colouring characters. It's not specific to Valentine's Day (so you can gift and read it at any time of the year), but Love from the Crayons tells a really sweet story about the "shades of love," and it's only $13.99.
3. With a Little Help from My Friends

Maybe your child isn't a Beatles fan yet, but With a Little Help from My Friends can only serve to get them there a little faster! Henry Cole provides beautiful illustrations to bring the words of the classic song to life for an entirely new generation. It's sweet and suitable for any time of year, especially since it's on sale for $23.38.
4. I Love You Like No Otter

I'm a sucker for a good pun, and I Love You Like No Otter clearly fits the bill. This board book "combines a warm message of love with beautifully illustrated animals," and it sounds like the perfect bedtime read for when you're curling up with your littlest ones. It's "purr-fect for anyone you love beary much" and $12.99.
5. The Friendship Book
This one sounds perfect for a classroom at any time of year but especially around Valentine's Day. It talks about how friendship can take different shapes and be a gift to others, as I suppose you might have guessed, since it is named The Friendship Book. It's written by Mary Lyn Ray and sells as a paperback for $20.99.

6. LEGO DUPLO I Love You Every Day!

For your littlest LEGO fans, nothing beats DUPLO, and the same probably goes for I Love You Every Day! It talks about emotions and unconditional love, all through a story involving the DUPLO characters. One quote from the book absolutely sold me: "Even when you stamp your feet and wrinkle up your nose, I love you from your head to your grumpy little toes." Can you get any cuter than that? It's on sale now for $12.91 from $12.99.
Many of these books are also available as e-books at much lower price points. Shipping is free when you spend at least $25 or arrange to pick up your items from a Chapters Indigo store near you.
Sign up for our newsletter
Never miss a deal from Bargainmoose with our daily newsletter