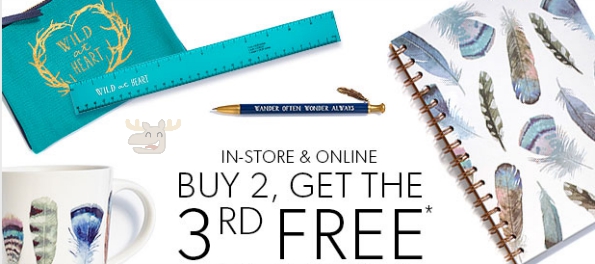 Chapters Canada has a buy two get one free deal on a select Back to School stationery and more collection. This buy two get one free offer takes the form of 33.3% off each of the three items you put in your cart, which is technically better than just getting your cheapest item free. In addition, select items in the collection are up to 55% off. Combined, you can save a great deal of money on some fresh school supplies.
The best deals are those that can be combined with other deals to stack the savings. This sale includes totes, pens, notebooks, mouse pads, stickers, mugs, and more.
Let us start with the highest discount: save 55% off a selection of rulers. This basic Ruler in three different colours were $4.50 and are now only $2 each. That is 55% off their original price. You could buy three of these rules (not sure what you would do with three) for $1.33 each with the bonus discount.
This Pen Cup in Navy or Ivory Feathers was $8 and is now $5 per cup. I like the design and think this is a great way to organize your pens, pencils, highlighters, and brushes. These can be great for art supplies as well.
I have not fully converted over to the digital world, this I still take notes on paper and make grocery lists on paper. This Memo Mousepad - Free Spirit would be great because it would function a) as a mouse pad and b) as a note pad so I always have paper close to my computer. Originally $10.50, the free spirit design is now on sale for $5.
If you want a note pad without the mouse pad built in, then pick up one of these simple List Pads in four different designs. You might even find a design to match the rest of your stationery. Originally $7.50, these pads are now on sale for $5. You can see how this discount looks in my cart: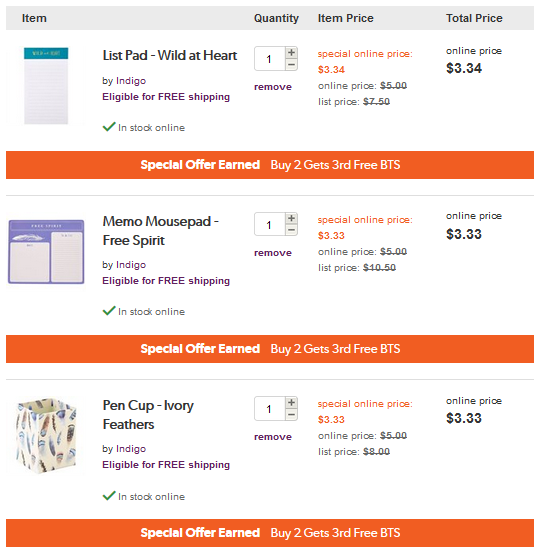 I just added in three items that were on sale for $5 each. Do note that you can 'stack' this deal in that you can purchase the deal in multiples of three and receive the same discount. I tried it on six items and it worked just fine.
Receive free shipping on $25 or more,.
(Expiry: 7th September 2015)