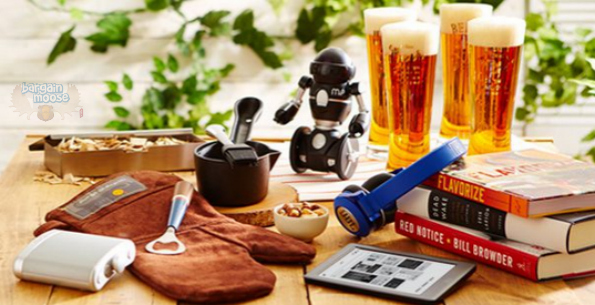 My favourite promo is back from Chapters! Receive double the discount on all books at Chapters Indigo now. Plum members usually receive an additional 5% off books but this coupon code will increase that discount to 10% off your books.
Click here to shop books @ Chapters Indigo Canada now
Coupon Code: ESCAPE
Discount: 10% off
Expiry: 17th June 2015
This offer is exclusive to Plum Members. Membership is free so there is no reason you shouldn't already be a member.
Father's Day is this coming Sunday. If you have not purchased a small token of your love and appreciation yet, then check out Chapters Indigo. They have an entire selection of 'Best Books for Dad' that would make great gifts.
This Finders Keepers: A Novelby Stephen King is a New York Times' bestseller. The book would usually cost $23.87 for Plum members, but comes down to $22.68. I do not even read thrillers or horror but I know Stephen King well. He is a celebrated writer and used to do guest articles for Entertainment Weekly Magazine.
This Dead Wake: The Last Crossing Of The Lusitania only costs $20 for Plum members, which is already 38% off the list price. The price after discount comes to just $18.94.
Some books are substantially discounted. Armada: A Novel by Ernest Cline is on sale from $30 down to $15. Plum members can purchase this book for just $13.96 after coupon. One reviewer said:
Fans won't be let down, at least I sure wasn't as someone being introduced to Ernest Cline. It's a simple but exhilarating story of video games and an alien invasion (really, what more can you ask for?!). Some twists and turns along the way made the narrative move along in an otherwise linear story with a discernible climax and ending neatly tied up in a bow, but not in the way you'd predict.
This works on all books that I can find: including the books that are substantially discounted like Ripley's Aquarium Reality Shock Annual Bundle that was $35 and is now $10. After coupon code, pay just $9.48 for this collection. This bundle includes Ripley's Believe It or Not! Reality Shock! (256 pages), a copy of Ripley's Aquarium of Canada commemorative guidebook, and a coupon for BOGO free tickets to Ripley's Aquarium of Canada.
Books are quite personal, thus I always have trouble picking out books for others. I encourage my friends to keep wish lists so I can simply raid their wish list and pick out a title to purchase. That way it is still a surprise but I know I am getting it right.