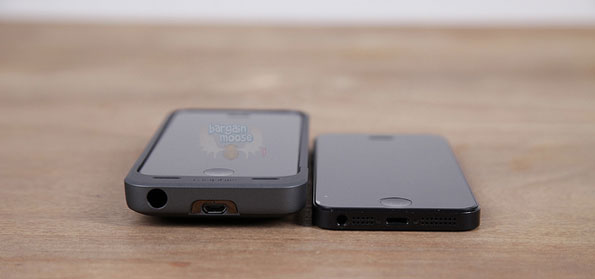 Got an iPhone 5? Then check out this super cool gadget on sale at Chapters Indigo: right now, you can save up to $60 on the Mophie space pack for the iPhone 5. You have the choice between the 16GB version or the 32GB one. Trust me when I say that if you have an iPhone 5, then you absolutely need this item. Shipping will also be free as Chapters Indigo ships orders over $25 for free.
For Christmas, I bought my hubby the Anker 13000 omh portable battery that Avigayil had blogged about back in December. It tends to go up and down in price but right now, it's back to being $34.99. Shipping is also quick as well.
To get back to the point though, after giving it to my hubby, I found myself constantly borrowing it because my iPhone 5 needs to be recharged at least twice a day. I felt so bad about constantly borrowing his gift that a couple of weeks ago, I ordered one for myself as well and while I love it wholeheartedly, the only drawback is having to carry around a battery that is slightly bigger than my phone. Don't get me wrong, the convenience of having this battery far outweigh any sizing issues, but had I known about the Mophie, I may have gone with it instead.
If you have an iPhone 5, then you can either get the:
Both versions also come in a choice of the following colours: black, white or gold.
So what is the Mophie space pack? It's essentially an iPhone phone case that adds either 16GB or 32GB of storage to your phone, along with an additional charge. Mind blown? Yeah, I am too.
I  have to admit that it's the first I head of this product but it's really quite cool! As you can see on the picture above, it's also not too bulky. A 1700mAh charge should also double your battery life but it really depends on how heavily you use your phone and the amount of apps that you tend to run simultaneously.
Important
Now, at Amazon, the Mophie space pack is more expensive. The 16GB gold version, for instance, is on sale for $149.99 (reg. $199.99), which is $50 more than at Chapters. However, browsing around, the only price discrepancy I found is that the black 32GBone is actually cheaper! It's down to $115, so if that's the one you want, then make sure to get it at Amazon instead, but it doesn't look like the price will stick for long. For all other colours and storage capacity ones, make sure to get it at Chapters Indigo instead.
(Image Credit: Ben Miller)
(Expiry: 5th April 2015)