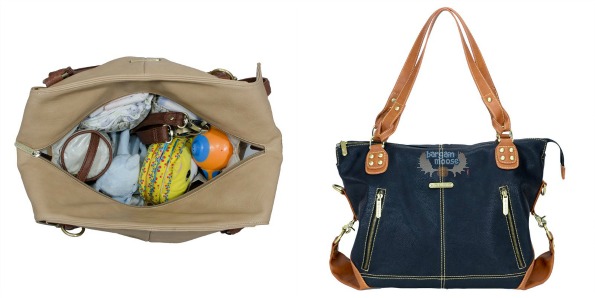 Get the "it" diaper bag at Chapters Indigo this week! Get $20 off the timi & leslie diaper bags, plus another 20% when you use Visa Checkout. The one I found the most intriguing is the Kate 7-piece bag, which was $180, on sale for $160 and with Visa Checkout will come to $128. You'll of course get free shipping as your order is over $25.
Here's something I didn't know: you don't need Visa to check out with Visa Checkout! You can use other forms of payment like MasterCard and American Express. I hadn't realized this and was dismissing all these deals because I have a MasterCard and not a Visa and I don't want you to lose out like I may have! This means that as long as you are using a credit card, you'll get this extra 20% off using Visa Checkout!
Now, let me tell you about these diaper bags. This is no ordinary bag. It is incredibly stylish, so you don't feel like you are sacrificing style because you've got to carry diapers, bottles, snacks and everything else that comes with a child under four years old. But, instead of just carrying a purse or another favourite bag, it is also practical for carrying baby's items, so it is much more intuitive than your coach bag. One of those features is a water-resistant lining, which means when that sippy cup spills, you won't be wrecking your bag. It also has an insulated bottle tote, so you can warm that bottle and keep it warm inside the bag. A zippered sac makes sure those poop-splosions don't get on your personal items. It also has stroller straps so you don't have to lug it around, especially when you know you'll be pushing a stroller while carrying a screaming bag. It's true, it happens.
I priced around for this Kate bag and I found this deal at Chapters Indigo by far beats the competition. Amazon sells a great number of timi & leslie bags and Chapters Indigo has them beat on every bag. The Kate bag, while a different colour than what Chapters Indigo sells, sells for $179.99.
Charlie could also be a popular bag with its simple, but gorgeous style. Regularly $170, on sale for $150, you'll get it for $120. Amazon sells that bag for $169.99. There are two colours available at Chapters Indigo.
What's great about these bags is that you don't just have one or two styles to choose from, there are a number of styles for every different person's look and feel. You could even get two if the mood strikes so that you have a different look, like one light colour and one darker colour.
If you need another reason as to why to buy these bags, check out this video on how cool they are!
(Expiry: 1st June 2015)