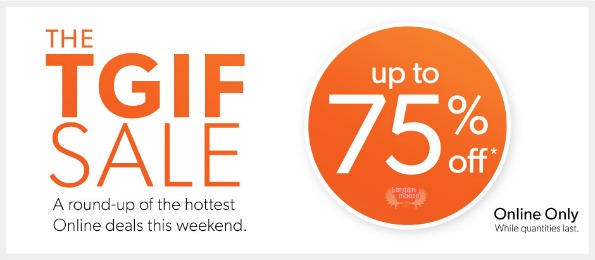 Chapters Indigo is having a TGIF sale this weekend with up to 75% off the hottest deals on their site. They also have their weekend coupon code, which is valid on a number of items and will get you an additional 15% off.
If you've used the Chapters Indigo weekend coupon, you know that it only works on select items. This means that even though there is up to 75% off a number of items, they may not get the code applied to them. I added a few items to my cart that are on sale and none were available to use with the code, so let me know if you found some it worked with!
There are a few books at 50% off, including Gone Girl, which is a must-read. I read it last year and had trouble putting it down, although I did find the twists a little predictable. I did love the way it portrayed marriage from its inception to its downfall. This book was $17, now $8.50.
If you still haven't gotten yourself a FitBit, maybe you will this weekend with the additional $10 off, making the price only $49.95.
This quilted hearts tote in pink is the perfect bag for the beach or a spring or summer picnic. The original price is $39.50 and it is now only $24.50. The one reviewer of the bag said it is large and sturdy and the quilted hearts are a very nice touch. I'd really like to pick one of these up for myself.
Shipping is free on an order of $25 or more.
(Expiry: 4th May 2014)