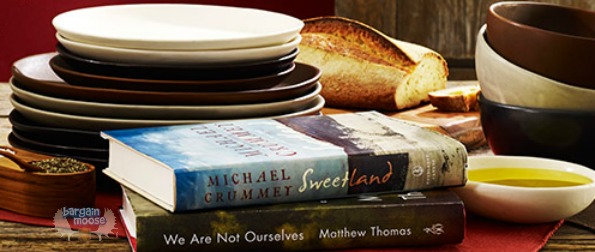 Are you happy it is the weekend and a long one at that? I am! Chapters Indigo feels your happiness and is extending by letting you shop online with up to 75% off at their TGIF sale.
Part of their sale is that they have the top 50 books at 50% off. While I know that their 50% off prices match Amazon's, if you are an avid shopper of Chapters Indigo, you earn rewards on your purchases and this might be an incentive to shop there. Plus, if you are already shopping their sales, adding a book to the list won't be a big deal if you are over the $25 minimum threshold for free shipping. If you haven't read Gone Girl, you really should, as it is a great book and I am going to see the movie tonight! At only $8.50, it might be your next snow day read.
Another category that really has me intrigued is up to 30% off top shows to binge watch. I am kind of a binge show watching girl. I can't stand waiting until next week for the next episode anymore, which I'm now patiently doing with Sons of Anarchy's last season. I much prefer to spend an evening watching two or three episodes of one show and then trying to get through the day to watch it again the next night. As always, price compare to make sure you are getting the best deal. If you haven't seen Call The Midwife, that is a show to watch that you might not have known about if I didn't tell you!
These $10 wall letters are really cute and I'd love to spell out some words like "Read" in my office. "Love" or even my children's names would be fun too. These were originally $14.50 each and I saw them in-store and they are good quality. If you are getting a few, your savings could be large.
Have a great Thanksgiving weekend Bargainmoosers!
(expiry: 14th October 2014)