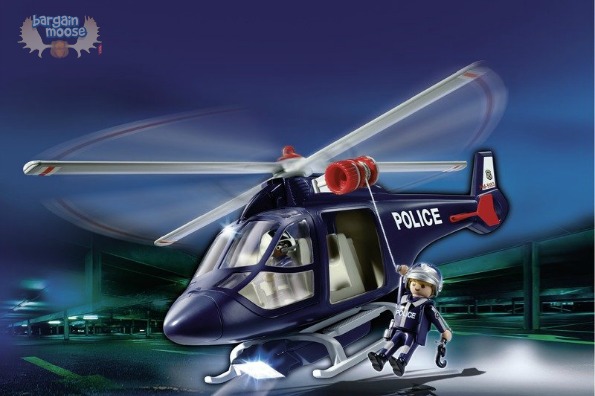 There is only one thing I love more than Playmobil, and that is Playmobil on sale. Our family has a huge collection of Playmobil sets, and we love adding to it for birthdays, Christmas and the such. When I find a good deal on sale, I buy it, rather than pay full price for it before a birthday or getting 20% off it, which is pretty much the maximum I've seen it on sale as a whole. The bank with safe is a fantastic price, with $20 off, now only $30, with a regular price of $49.95.
We actually have this set, which is one reason I wanted to blog it for you. It is one set that really gets played with a lot. For some reason, boys like to simulate bank robberies and do the typical bad guy vs. good guy role playing and this sets gives them the background to do so. You could of course pair it with other sets like the police station, where you can put the robbers after they've been caught.
If this set is just not up your alley, there are other sets also on sale. One of my favourites is the beach holiday. We have this set as well, and I find my younger boys play with this one a lot. I think this one is also unisex (not that they all aren't), because the beach has universal appeal. We've paired this up with quite a few other sets like the ice cream shoppe and the jet ski. This one was $12.99, now $9.
Another favourite in our house, that isn't a huge discount (13%) is the police car with flashing lights. All of the Playmobil vehicles get tons of use from all three of my boys, but there is just something about the wee-oh wee-oh of the sirens of a police car (self-made included) that boys can't get enough of. Get this toy for $26, from $29.95.
Shipping is of course free on a $25 or more purchase at Chapters Indigo.
(Expiry: Unknown)