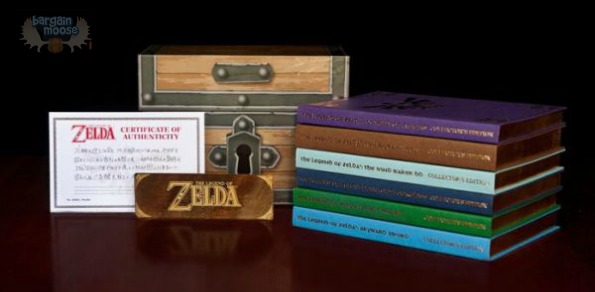 *BUMP: This amazing Zelda box set is back on sale*
The coolest geek deal ever is at Chapters Indigo for today only! Pick up The Legend of Zelda Box Set: Prima Official Game Guide for 75% off the original price. This Zelda ultimate box set was $205.99 and is now $50 with plum rewards. Receive free shipping on this Zelda set as it qualifies for free shipping on $25 or more.
I price compared this Zelda box set with Amazon where it is currently on sale for $120.38. Barnes & Noble has the same box set for $124.98 US. I have not played Zelda, but I know people who are devoted fans. One girl I know is making a Zelda Monopoly board with her partner. They are creating it by hand as a tribute to their favourite game.
This box set is every Zelda player's dream. This limited edition box set includes six hardcover collector's editions for:
The Legend of Zelda: Ocarina of Time 3D
The Legend of Zelda: Spirit Tracks
The Legend of Zelda: Phantom Hourglass
The Legend of Zelda: The Wind Waker HD
The Legend of Zelda: Twilight Princess
The Legend of Zelda: Skyward Sword.
Many of these books are out of print so this box set is your only chance for buying them. For example, The Legend of Zelda: Ocarina of Time 3D guide has never been in hardcover before this set. The Legend of Zelda: Skyward Sword guide has also been expanded by 100 pages of bonus material that you will not find elsewhere.
Not only are you receiving awesome limited edition books that are hard to find elsewhere, all the books in this collection are gilded. That means the edges look like gold! The box that stores these volumes is good quality and has an embedded magnetic clasp.
For serious collectors, an individually numbered certificate of authenticity will be included. They certificates are signed by Mr. Eiji Aonuma, the Producer/Director for The Legend of Zelda series.
Reviewers are stoked by this set! Here is what one reviewer said:

Beautiful gold detail, all books are hard cover and very durable. The attention to detail is amazing: for example, the border design around each books cover reflects the game each books is about (Wind Waker has wind motif, Ocarina of Time has ocarina and harp designs).

One reviewer mentioned that the box set was on sale for $80 on Cyber Monday. Still, this his is the cheapest that this Zelda box set has ever been.
(Expiry: 9th March 2015)