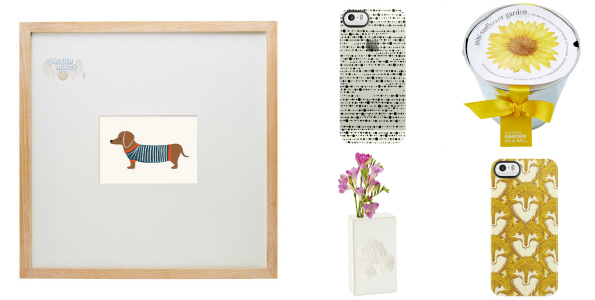 I thought I would compile a list of especially good deals in the Chapters Indigo sale section as there are so many great opportunities to save money. This post is dedicated to items (not books) that are 70% off or more.
In the decor section, we have a couple frames well worth your attention as they come with mats. This White Wash Frame with Ivory Mat – 5" x 7" was $54.50 and is now on sale for $13.50. Print off a favourite picture and display it in this frame. I think there is a little too much mat for frame, thus I prefer the White Wash with Ivory Mat – Three 4" x 6" Openings also on sale. Originally $59.50, the frame with three openings is now $14.50. While not a frame, this "Exuberance is Beauty" Art Print 11x14 by Cadence Paige Design for Minted counts as wall decor. Originally $46, the print is now discounted to $11.50.
Let us journey in the realm of containers: objects that hold other things. ThisFloral Bud Vase – Medium was $24.50 and is now on sale for $6.50. Present your dear love with a lovely blossom inside this darling vase. While I have mentioned this Minimus Decorative Pot before, the yellow and the blue colours are still in stock. Originally $39.50, they are now $9.50.
There are few things more delightful than watching a plant grow. This Sunflower Garden In A Pail would make an excellent gift for the at home gardener. You can also purchase theStrawberry Garden In A Pailfor edible produce after it blooms. Originally $34.50, these pails are only $9 each.
If you own an iPhone 5/53, then you can pick up a few cases for a song. This is exactly the iPhone I own (that is currently being replaced by Apple). Maybe I will christen my new phone with a new case to match. There are four to choose from:
That permafrost case is pretty wicked.
This is by no means an exhaustive list, but it does feature some of the best deals that money can buy at Chapters Indigo right now. Receive free shipping on $25 or more.
(Expiry: unknown)