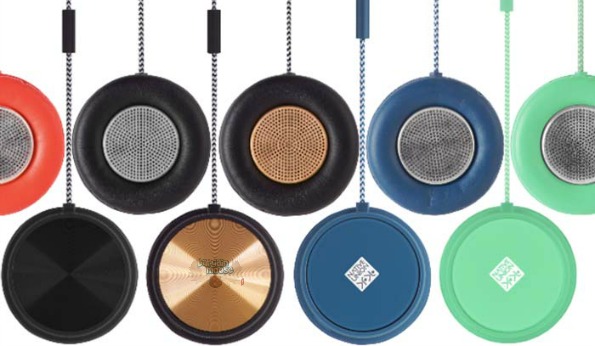 Chapters Canada is offering 60% off Native Union Speakers right now. Speakers start at just $16 and go up to $52 at sale prices.
There are two styles of speakers sold at Chapters Canada from Native Union: the monocle handset and the Bluetooth block.
This unit is a combination of a speaker, handset, and speakerphone that you can use individually or daisy chain together for a better listening experience. The speaker is simple; just plug and play. Speaker mode allows you and a few friends to conference call with someone on the same cell phone. The speaker also lets you share your music on the go. When daisy-chained together, the experience only gets better. Originally $40, the monocle is on sale for $16. I would not expect miracles from the sound quality as this is an inexpensive unit, but it is a good buy on sale. Choose from slate, coral, marine blue, or mint colours.
Native Union Switch Bluetooth Speaker
This speaker captures my interest. Resembling a block of Lego, the Switch Bluetooth speaker is minimalistic while remaining esthetically pleasing. This speaker does triple duty in two ways. First, it features triple speakers for great sound quality up to 30 feet away. Next, it pulls triple duty by acting as a portable Bluetooth speaker, conference call unit, and a mobile phone charger. It is also compatible with Skype, Google Talk and other VoIP applications and can play up to 14 hours of music. While the speaker has one bad review on Chapters, it has many good reviews on Amazon.com for a total 4/5 rating. Here is one of those reviews:
Sold my Jawbone to buy this speaker and damn glad I did! Great sound for such a small footprint. Can fill a decent size room on full volume. Blue tooth works effortlessly and construction appears to be solid. Nice mix of bass and treble. Good value for the price and shipment was received in time and packaged well.
Amazon.com sells these for $129 US, so you are getting a great deal at Chapters Indigo for only $52 (was $130). Choose from aquamarine, black, bordeaux, or white.
I would buy this unit. While smaller speakers are good for daily travel, I like a unit that can charge my phone and offer a solid music experience via Bluetooth.
Receive free shipping on orders of $25 or more.
(Expiry: Unknown)