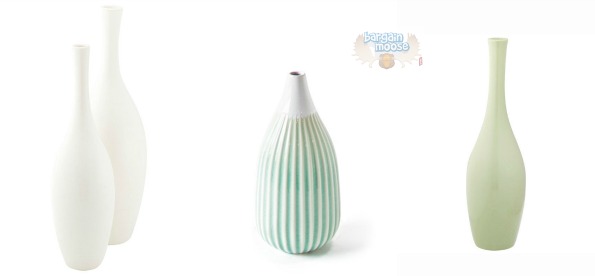 Receive 50% off vases at Chapters Indigo Canada to display your freshly cut flowers this summer.
The vases on sale are pretty narrow mouthed: good for a couple daisies or a handful of wildflowers presented to you, dirt and all. The vases vary in size, so you can pick up a matching set of different sizes.
This High Tide Vase – Aquais the odd man out without any other matching vases. Originally $40, he is now on sale for $20. This vase (pictured middle) is also my favourite. I like the ridges that alternate between white and blue.
The rest of the vases all have varying sizes in the same style. Pick up theLarge Juggler Vase – Celadonthat was $29.50 and is now only $14.50. You can get a matching Small Juggler Vase – Celadonfor only $7 (was $14.50). To get a medium you will have to switch colours, but you can keep to the same style. The Medium Juggler Vase – Blanc for $14.50 (was $29.50) might be a nice compliment.
There are five different colour choices for the Juggler vase style and they come in three different sizes.
Receive free shipping on orders of $25 or more at Chapters Indigo Canada.
(Expiry: unknown)