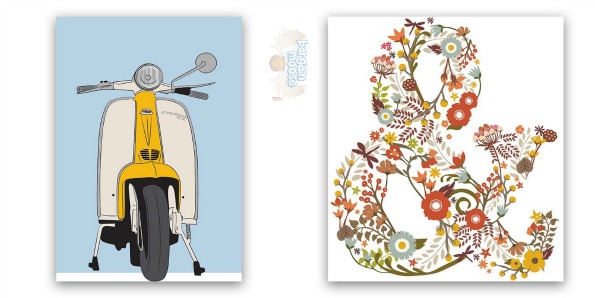 Art is one of those things we buy to make our house look welcoming, to express our personality, and to hide imperfections on our walls. Currently, Chapters Indigo Canada has two art prints, in two different sizes, on sale for 75% off their original prices. Choose from Scootin' by CRAFT Design or Elegampersand by Snow and Ivy. 11 x 11" prints were $44 and are now only $11. Elegampersand also comes in a 16" x 16" that was $66 but is now $16.50.
While these prints are from Minted, the actual art is crowd sourced! You can see that these two prints feature different artists' work with very different styles.
As art goes, these are fairly inexpensive pieces because of the 75% off discount. You could purchase one of these and an inexpensive frame to go with it, then your art would be ready for hanging. I like the Scootin' pieces best because it plays with yellow and blue: colours that complement each other well. It would not match much of my decor, unfortunately, and my walls are green so that does not help.
However, Scootin' is a lovely print for a boy's room. The theme of a scooter is ageless, so the art print would most certainly remain relevant throughout the different age brackets. Even adults would enjoy this print. Therefore, it could be something he has for years.
I could see Elegampersand being just perfect for a sewing room or a baby's room. The floral patterns are calming and elegant. I like the idea of putting this print in a baby's room. Ampersand is stands for "and", so it makes me think of adding a new addition to the family.
Art is very personal. I tend not to give art as a gift unless I know the person loves that artist. However, I do not mind buying art for myself or very close family members.
All orders of $25 or more qualify for free shipping. You may want to check out the rest of the sale section for other great deals. They recently added a bunch of new stuff to the sale section. So, check out the other deals before you checkout your cart contents.
(Expiry: Unknown)