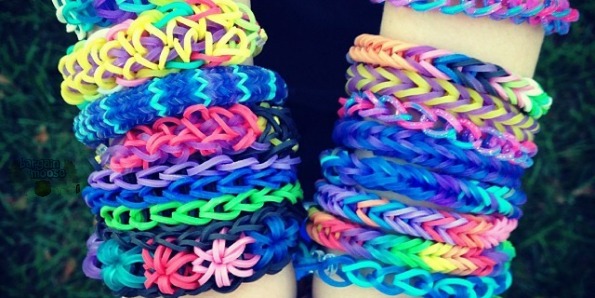 Chapters Indigo is offering 50% off all Rainbow Loom kits and accessories.
The primary Rainbow Loom kit was $18.95 and is now $9.48. The set comes with everything you need to start out. Included in the kit are two looms (one regular and one travel-sized), a metal hook, c-clips, instructions, and over 600 pieces of latex free rubber bands. These accessories will make around 24 bracelets.  One happy parent said:
I bought a rainbow loom for my daughter, and she loves it so much! She spends hours playing on it everyday, and it keeps her really busy. The things that you can make with elastics are unbelievable. She's actually made an iPod case! I don't regret buying it for her.
This is a fantastic kit to encourage creativity and working with your hands. Now, if you have an child who avidly uses her loom, then you will need some accessory kits to keep up with demand. Pick up the Rainbow Loom Multi-Colour Refill Pack on sale from $3.95, down to $1.98. This multi-pack comes with 600 bands. For a specific colour theme, I would choose the Rainbow Loom Refill Pack - Mermaid that was $4.95 and is now $2.48. Unfortunately, the mermaid themed pack (and a few others) only comes with 300 bands. The colours are fantastic! There are plenty of other colours and themes to choose from. You can even buy 600 bands of the same colour if you like. The Rainbow Loom Glow-in-the-Dark Refill Pack is probably my favourite. Who does not like glowing jewellery? Originally $4.95, this pack of 600 bands now costs $2.48.
There are also a couple Rainbow Loom Upgrade Kits you can purchase. The kit includes a mini Rainbow Loom and the new 2-in-1 plastic and metal replacement hook with base removal tool. The new hook design has a metal tip that will last longer. Originally $4.95, the loom upgrade is just $2.48.
You can also buy the travel loom separate. I read a few comments where the travel loom works better for younger kids who cannot quite get the hang of the bigger loom.
I think 50% off Rainbow Loom is a great price. You can really stock up on bands, upgrade your loom, or invest in a new starter kit for less. Receive free shipping on all orders of $25 or more.
(Expiry: 31st March 2015)