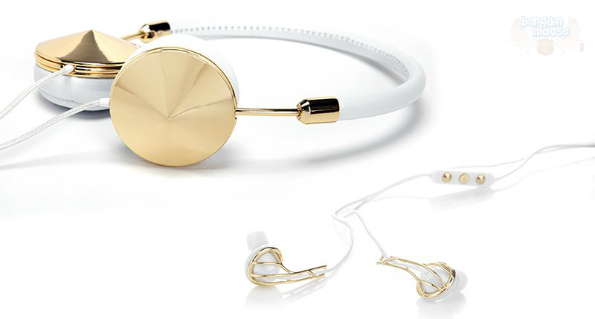 Chapters Indigo Canada has bundled together the Frends Layla headphones and the Ella B earbuds. If purchased separately, then these two pieces would cost you a total of $250. Currently, the bundle is on sale for $150.
This set is gorgeous - truly a good-looking headset with quality materials. The gold gives the headset and the ear buds a warm glow. I find it very rich and stylish when paired with the white leather. The two contrast beautifully. The combination of gold and white leather really makes this headset look expensive and very feminine as well. If you care what you look like with a headset or earbuds on - then this set is for you.
Very few sellers actually carry this brand. I found the headset (in rose gold) for sale on Frends' website: it was priced at $149.95. I also found the earbuds on sale at the Frends' website. Originally $99.95, they are on sale for $49.95. These prices are in USD as the company is American. I also found the headset for sale at Amazon.com (US) where it retailed for $199.99. Places like Net-A-Porter have the headset for $150 USD. I could not find this set elsewhere in Canada apart from Chapters.
Frends products come with a two-year warranty to protect your product from manufacturer's defects.
These headphones have a three-button volume mic and phone control. The cord is fabric-covered for comfort and the ear cushions are made of leather covered memory-foam for the most comfortable music experience ever. The white leather is made from lamb and the set comes with a soft carrying case to keep your headphones safe. They are compatible with most MP3 players, cell phones, and other devices.
I was a little confused as to why someone would buy both headphones and earbuds. However, they can be very useful in different circumstances. Sometimes you do not want to carry around a set pf headphones so earbuds are better - they fit right in your pocket. For longer journeys like a flight or bus ride, you may want the added noise cancellation of the headphones.
As this set costs over $25, you will receive free shipping from Chapters Indigo Canada.
(Expiry: Unknown)