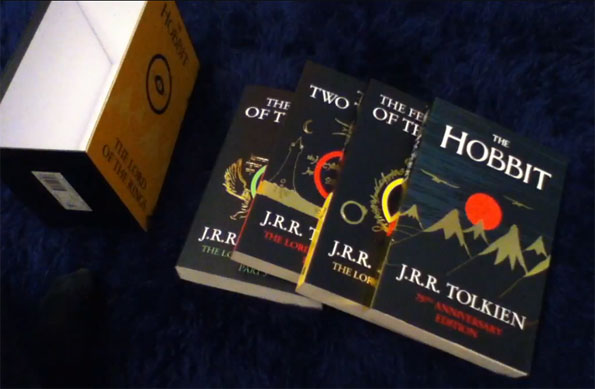 Celebrate the 75th anniversary of The Lord of the Rings by getting the box set for just $10 when you shop for over $35 at Chapters. It will also be shipped for free!
Regularly priced at $49.99 and already on sale for $31.34, if you get this box set for $10, that means you will be saving 80% off the original price! The box set includes: The Hobbit, The Fellowship of the Ring, The Two Towers and The Return of the King.
I particularly like this edition of the beyond popular series as the covers don't feature stills from the movies. The movies are of course great in and of themselves, but it's refreshing to see more unique book covers, especially since the books were initially written and published in the 1930's. Keep in mind that the format of the books is also in trade paperback.
Although Tolkien wrote The Hobbit before the Lord of the Rings series, the makers of the movies chose to release these stories the other way around with the LOTR before The Hobbit and perhaps rightfully so given their world-wide success, but the fact remains that I'm sure many of you have yet to either watch The Hobbit movie or even read the book. This box definitely makes things easier, especially since when I bought my box set ages ago, I had to buy The Hobbit separately. On its own, The Hobbit costs a little over $10, so you're definitely better off taking advantage of this deal since you will basically be getting four books for the price of one!
It's too bad this deal isn't a freebie, but considering this box set's regular price is of $31.34 at Chapters and $19 at Amazon, it's still a really good deal considering it comes with all four books. In any case, this is a particularly great deal to take advantage of if you were already about to get something else at Chapters. In fact, Krista recently blogged about the border throw on sale for just $12.50 (reg. $49.50). I would definitely love to have a couple of those with the pink border in honour of my little baby girl! :)
Your order will also automatically qualify for free shipping as Chapters always ships orders over $25 for free. If you aren't already, I also suggest you subscribe to their Plum Rewards program as it's free to do so and you will also get to enjoy slightly lower prices.
(Expiry: 4th August 2014)
(Image Credit: ThePlaceForBooks)