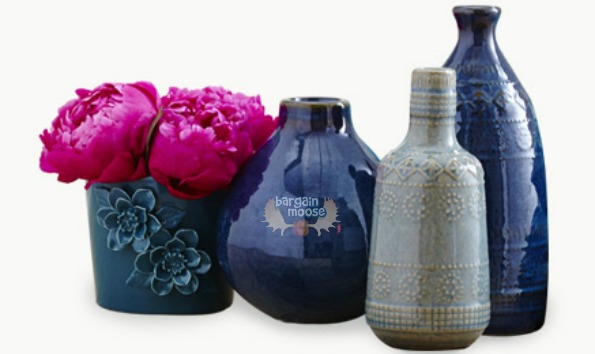 Chapters Canada is having a sale on vases with buy two get one free, in-stores and online. Plus, tomorrow is the last day to get free shipping with no minimum purchase.
I'm getting some new bookshelves for my family room and need some ideas on what to put on them. This is a great sale because I'm thinking of taking some stuff from office to put in the family room, so I'm going to need vases for both the office and family room. Why not add one to the kitchen too?
I love the textured look of this bone china white prickley pear vase. This would be great as a standalone piece anywhere that already has a lot of colour. $19.50
The deep blue in this earthenware bottle vase makes me happy! I'd love this for anywhere that needs a bit of cheer. $19.50
I can totally see this turquoise glass bottle vase holding a few freshly picked flowers from your own garden. Get it free with the purchase of the other two vases!
If you order today, you'll get free shipping. If you order after today shipping is free if you spend more than $25 (which you would in this case anyway).
Don't forget about the coupon code to save an additional $5 off a $30 spend at Chapters.
(Expiry: 13th May 2013)