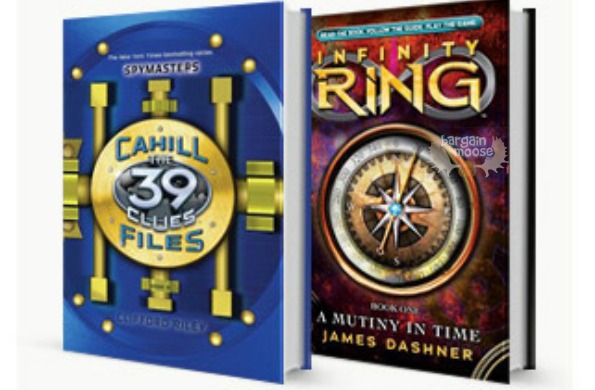 I wanted to blog about these adventure books because my oldest son just discovered them and is addicted. It is almost all he talks about right now. For only $20 you'll get two adventure books from either the 39 Clues series or the Infinity Ring series.
This is a really great deal, because it also includes a few sets which are regularly priced at over $30.
The 39 Clues Starter Set includes Book One: The Maze of Bones by Rick Riordan, Book Two: One False Note by Gordon Kormon, and Card Pack #1. This is the perfect set to get your child reading this best-selling series, regularly $34.99.
The39 Clues: Cahills vs. Vespers Starter Set is another starter set from this series including Book One: The Medusa Plot by Gordon Korman, Book Two: A King's Ransom by Jude Watson, and Card Pack One: The Marco Polo Heist, regularly $34.99.
You'll get both starter packs for only $20!
Shipping is free when you spend over $25, so find yourself something for $5 and save yourself the shipping with these books, or better yet, get four books!
(Expiry: 3rd June 2013)