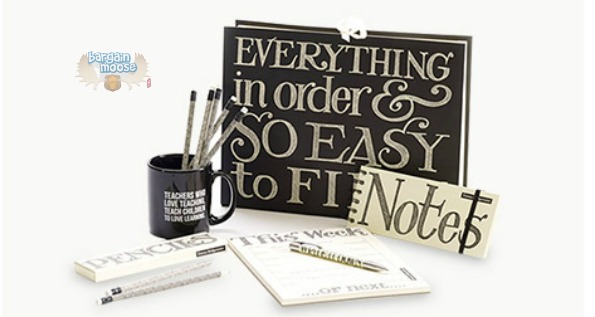 Get 30% off gifts for teachers in the Teacher shop at Chapters right now.
This is the time of year parents might dread and teachers love - the end of school! Thank your teachers with a lovely gift that will help them remember the little angel that is your child. Or forget, whatever works better. My middle son has three teachers in his kindergarten class and one of them is very special to him. I don't think he would have survived kindergarten if it weren't for her and I really appreciate everything she has done. My oldest son's teacher, who looks oddly like Vince Vaughan, has been a great communicator and even called when my son recently had surgery to see how he was. All of these teachers (and our school bus driver) deserve something awesome. I already got some great gifts for the lady teachers from Ethical Ocean, which I will write about in a future post, but for now let's see what I can get the others.
The great thing about this selection at Chapters is that it isn't very costly. One other amazing idea would be to give them a Chapters gift card, which any teacher can use, plus one of these smaller gifts. Practical and thoughtful.
If I were a teacher (or just me), one thing we need is pens! Why not give a few nice pens like these Black Toast ballpoint pens? Seriously, there is not much better than writing personal notes with a nice writing pen. Was $7, now $4.90.
Since they've now got a nice pen, how about a nice notebook, or a set of three gorgeous ones? Was $12, now $8.40.
Teachers also can't have enough mugs for all that coffee they need during the teaching day. Was $12, now $8.40.
Shipping is free on orders over $25.
(Expiry: 17th June 2013)