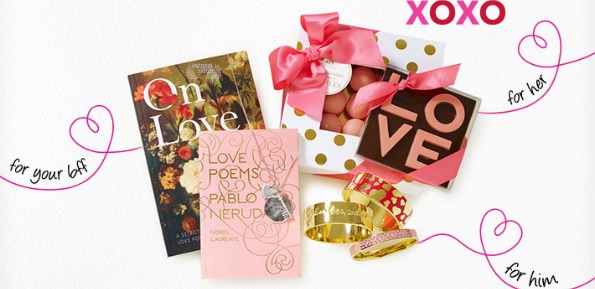 Get 25% off gifts for your sweetie at Chapters Valentine's sale on right now.
I personally don't believe Valentine's Day should be some big, blowout affair. I think it is a day where you show the love of your life that you care about them and take some extra time that day to do something special. I don't think it is a day where you should get a new 1 carat diamond ring or a trip to Cuba. I am actually going to give my honey a yoga class! Our yoga studio has partner yoga on that day and he has always wanted to try it, so I'm going to book us in and get a sitter. Chapters is also a great place to get your Valentine a little something for the special day too. They have a whole section dedicated to Valentine's Day and are giving you 25% off, so have a look and see what you find.
This milk chocolate Love bar is quite cute and very inexpensive. Was $8, now $6.
Get her this really cute overlapping heart mug so each day she'll remember how much you really do love her, even on the days you leave your wet boots right in the middle of the hallway. Was $10, now $7.50.
My husband has about five things in his life he really loves (besides our family) and one of them is golf, the other three I won't mention, but the third is beer. This XL beer glass holds four bottles of beer and is almost perfect for him. Now when he tells me he's only had one, he'll be honest about it. Was $14.50, now $10.15.
Don't forget the kids either. You love them right? If they are sending out valentines at school, these cootie catchers are incredibly cute! Was $16.99, now $12.74.
Shipping is free on orders over $25.
If this sale didn't catch your fancy, check out all of our Valentine Ideas!
(Expiry: Unknown)