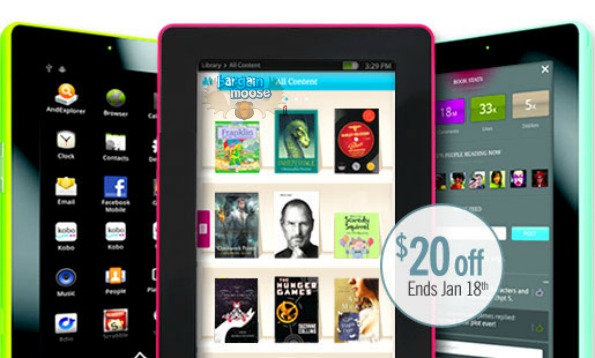 Get $20 off the regular price of a Kobo Vox in store and online at Chapters Canada.
There is no coupon code needed. This offer is not valid on kiosk orders.
Regular $199, the Kobo Vox is on sale for $179. Not only for reading, the Kobo Vox has a colour touch screen, can connect to Wi Fi to browse the Internet, check email, watch movies, shows and video, listen to music, and play games. It's got 8GB of storage, or enough room for 8000 ebooks. You can buy an SD memory card up to 32GB if you need more storage.
A friend of mine got one as soon as they came out and she has nothing but good things to say about it, as does this reviewer
I purchased the VOX for my wife, and am pleasantly surprised at the capabilities of the unit. She enjoys the colour touch screen and the freedom it gives her to interact on Facebook, read a book and read her on-line magazines.
It's a great "do it all" device - perfect if you want to do more than just read. If you are wanting a tablet and an ereader, this is a great idea!
The Kobo Vox will ship for free.
Expires: 18th January, 2012