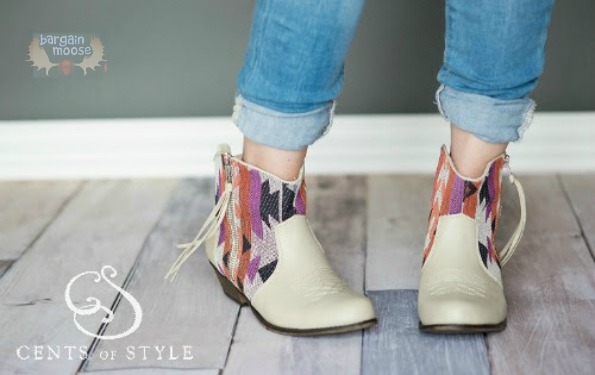 Want stylish boots for less than $20? It is possible right now with Cents of Style's boot sale, on right now.
There are a variety of styles available during this sale, all for $19.95, except on pair on sale for only $14.95. The regular price is not listed, but once you look at these boots, you'll see that they are quality boots worth more than 20 bucks. If you read the descriptions, these boots are all on-trend for Fall 2013, but if keeping up with the latest fashions is not your priority and having a nice looking, comfortable and affordable boot is, then you are right on track.
These  short leather-look distressed boots look like a classic style of boot to me. They can go anywhere and with a lot of different outfit choices.
I love the uniqueness of these trio beige short boots. They are western-inspired with an aztec print. Go out of your comfort realm and get these boots. Especially for only $19.95, you won't have to have them as your everyday boot, you can wear them when you feel like it.
I was recently invited to a western-themed party where it was all about cowboy boots and cupcakes. I didn't have a pair to wear, although I was interested in devouring these cupcakes. It would be worth  my while to have a pair of these Reno cowboy boots in my closet for just an occasion. I really love the styling of them too.
Cents of Style is a U.S. company, so they ship from there, which means duties are possible on your order. Your prices are also all in US funds. Shipping is a flat rate of $5, no matter what you order.
(Expiry: Unknown)