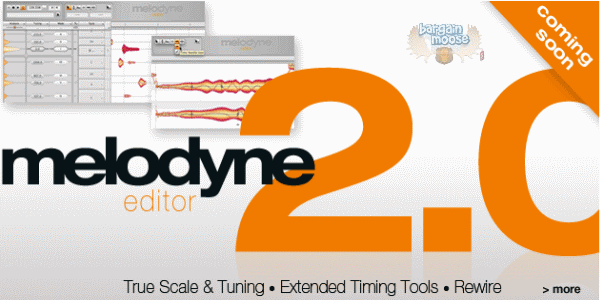 This is the best deal I've found on audio editing software in a very long time! However, it is for current users of Melodyne Essential (their intro level program) only. You can essentially upgrade now to Celemony's top product, Editor, for half price, and then get the new version 2.0 which comes out mid-November. I've been tracking this product for a couple of years and this is the cheapest it's been—and this kind of software is rarely inexpensive to begin with.
Melodyne Editor allows you to apply modern vocal effects (like in Cher's "Do You Believe In Love") as well as completely natural pitch correction to your vocal recordings. So, even if you don't have perfect pitch it can sound like you do. But the coolest thing about Editor is what it lets you do with polyphonic material (like a recording of a guitar chord): it can break that material into individual notes so you can then assemble new chords and arrange them into a new tracks. This capability would have cost thousands of dollars only a few short years ago.
If you don't use Melodyne already, you can still get a pretty good deal. You can purchase Editor for $349 now, and get the 2.0 update next month for free.
You can also download a 30-day fully functional free trial (no strings attached). If you like to sing or make music—even just as a private hobby—you will be blown away by this trial.
Check out a comparison of the different versions of Melodyne.
The prices are in US dollars, but with our dollar still around parity, this shouldn't be much of a concern, especially since there are no shipping costs. You just download it.