Happy Cinco de Mayo! I have spent quite a bit of time in Mexico, it's always one of my favourite travel destinations. The ocean and weather are a big draw, but the food and culture are the things that stay with me even after my return home. It's such a vibrant and colourful place.
Shu Uemura is a cosmetics brand that also exudes vibrancy and colour and today they have a great offer to celebrate Cinco—receive 5 free samples with any order. Use code CINCO, of course!
Here's where things get even better, if you make your purchase an item from the KYE Collection, you can also receive FREE shipping, just use a second code—KYEWAVE.
I've had the opportunity to try a few products from this vibrant collection, they aren't for everyone, but if you love to do a bright pop of colour or push the limits a little beyond a neutral palette, the Fresh Cushion blush in hibiscus pink or orange is amazing. Cushions are a big trend in make-up right now, so here's a great chance to try it out if you've not done so yet.
If that's a little too bold for you, then maybe try these gorgeous Sheer Colour lip balms—they are hydrating and give just the right amount of pop without the opaqueness of a lipstick. They are available in three pretty shades, pink, peach and orange.
Pop either of these fab products in your cart, add code CINCO, and here are the five samples you'll receive as part of your order for free: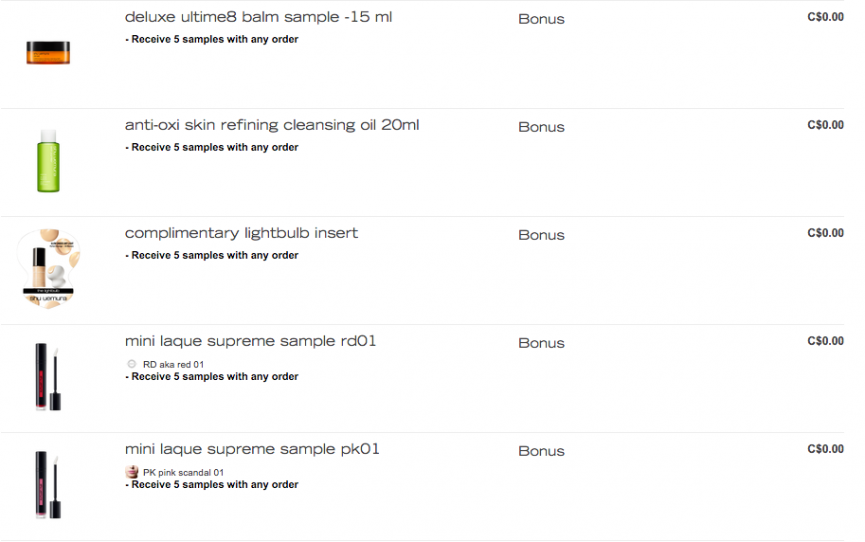 How fun is that?! Don't forget, you can stack on a second code, KYEWAVE, and your shipping will be absolutely free. If you prefer to shop for cosmetics outside of the Kye Collection, spend $50 today and you'll also receive free shipping with your CINCO code.
Have you used Shu Uemura products yet? We'd love to hear about your favourites!
(Expires May 5, 2016)