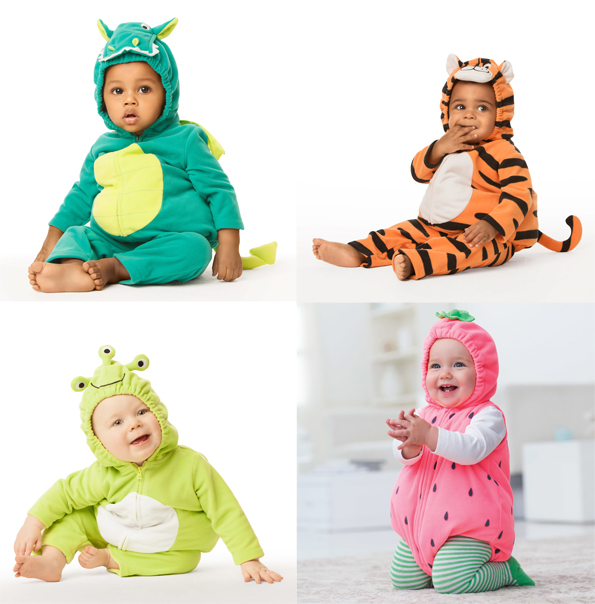 If you are looking for inexpensive Halloween costumes for babies and toddlers, plus Halloween apparel for all ages, Carters OshKosh is such a great place to shop for these items. Right now they've got baby Halloween costumes on for 25% off, regularly $20, now $14.99, plus we've got a very hot exclusive coupon code you can stack with this and get $10 off your $50 order too! Today is the last day you can order these to expect them before Halloween, so don't wait!
Click here to shop @ Cartersoshkosh.ca now
Coupon Code: CAOKBM10
Discount: $10 off $50
Expiry: 31st December 2015
The Halloween shop is filled with baby-size costumes that are ultra-cute and so inexpensive. There are costumes available for both baby boys and baby girls and some that suit both. They are all basically no frills costumes that will just give your baby some added cuteness (as if they need it!) for Halloween.
This my mini martian costume, which is warm, cute and easy to put on (so important!) is available in sizes 3-6 months or 18 months. Don't make the mistake I did with my first born and spend $75 on their first Halloween costume. It was so cute, but this is just as cute too and quite a bit more less money.
If you are wondering why a new baby needs a Halloween costume, then you are no fun. First of all, you want the pictures, second of all, baby group will definitely have a Halloween party and third, they will look cute with their older siblings while trick or treating.
If I had a baby girl, I would definitely be getting her this wise lil' owl costume. I just love all of the colours. It also has quite a few sizes still available.
Anyone can be a cute little tiger, and this costume is available for babies 3-6 months.
You'll want to get that total up to $50, just so you can get that extra $10 off. As usual, Carters OshKosh offers a flat rate for shipping of $8.