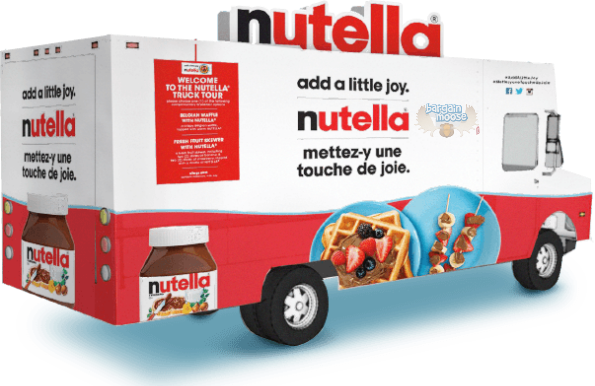 The Nutella food truck is making its way across Canada. I can almost hear the sound of the cheers from the roar of Happy Canadians! If you also love Nutella, you should head over when the truck is near you to try free recipe samples, receive a free custom Nutella jar label and have the chance to win other prizes from the Nutella Claw machine!
Nutella has partnered up with Montreal celebrity chef and restaurant owner Stefano Faita to create an interactive food truck tour that is leaving Canadians drooling. The host of the CBC show "In the Kitchen with Stefano Faita" has created five Nutella recipes featured on the website in honour of the tour, and will be offering free samples at the tour stops. The word around the web (and on the side of the truck!) is the samples include Belgian Waffles with Nutella and Fruit Kabobs with Nutella. To see a little more about the tour, check out this video on Nutella's Facebook page.
So by now you should be drooling and asking where can I get some of these great Nutella freebies?
Toronto: Toronto Zoo
June 27 to July 2: 12:00 pm - 6:30 pm The truck is located outside the front of the zoo, no admission is necessary.
Quebec City: Festival D'été de Québec
July 10 and July 12: 12:00 pm - 6:30 pm
July 11: 12:00 pm – 11:00 pm
Edmonton: K-Days
July 23 to July 26: 12:00 pm – 8:30 pm
Montreal Area: International Balloon Festival (Saint-Jean-Sur-Richelieu)
August 8 and August 9: 12:00 pm – 9:00 pm
August 10 through August 12: 1:30 pm – 9:30 pm
Toronto folks should  hurry over if you want to jump on this Nutella fun. The truck is only going to be at the zoo today and tomorrow!
Also included at the truck will be a claw machine that you can play for the chance to win free prizes. I heard the machine is tough, so you may want to bring along your best video game player for your best chance to win. The Nutella truck is also giving out free custom labels to add to your Nutella jar.
If you cannot make it to the truck, Nutella is giving away free custom labels and Spifes (spoon and knife combo!) on the Nutella Facebook page. You must enter to win by commenting on one of the contest posts and tagging friends.
(Expiry: 12 August 2015)