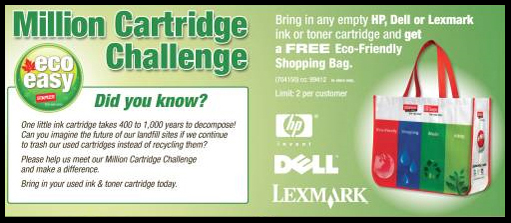 Do you have a Dell, a HP, or a Lexmark printer? If you have a laser printer or an inkjet printer of the aforementioned brands, you can get yourself a nice freebie in-store @ Staples Canada.
Get rid of your old printer cartridges, ink or toner, and they will give you a free eco-bag to take home…
These bags are pretty sturdy and are very handy for your groceries. Also, you're doing your bit to save the environment, by not using those throwaway plastic bags from the supermarket.
They say in their advert, that one ink cartridge can take 400-1000 years to decompose! That's a bit mad! Staples.ca are aiming to recycle a million ink cartridges – that's a tall order! There's a little article on it hereshow.ca, if you're interested in finding out more.
- Anna