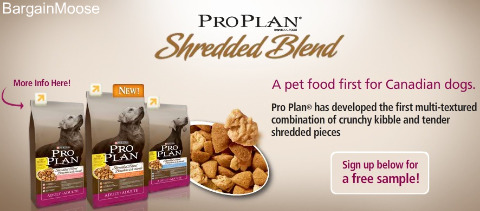 Another dog food sample, can we hear a 'yippy' from the pet owners? Pro Plan has created a two texture dog food with both crunchy bits and shredded softer bits. Hopefully it will be loved by picky pets nation wide!
In 4 to 6 weeks, you'll receive your FREE 125g sample of Pro Plan® Shredded Blend Chicken & Rice and a HIGH-VALUE coupon for your next purchase.
Our dog Foxtrot was babysat by some wonderful coworkers of my husband's while we were on our honeymoon and they had an open feeder for their dog with Purina dry dog food in it. In less than a week our dog gained 3lbs (10% her body weight) from gorging herself on the food! She really liked it.