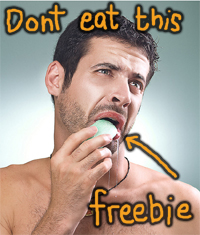 Quick post for you guys to let you know about some totally free stuff!! Néolia.com are giving away some free organic olive oil Néolia soap on their website.
There's a very short form to complete, and then you should receive your free item within 4 weeks!
Click here to apply for this Canadian freebie from Neolia!
Limited time offer. Reserved for residents of Canada. Four weeks delivery.
You know, I don't think there's a bar of soap in my house at all. I'm a liquid soap gal.
Thanks aknacer! That looks tasty!
UPDATE - 14th April 2009 - confirmed as received!