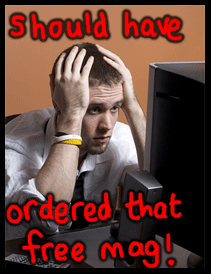 While this freebie might not be everyone's cup of tea, perhaps some of you would make use of it, so I'll pop it up in a blog post. For a free 1 year subscription to Canada's Atlantic Business magazine, just complete the details on the web form from AtlanticBusinessMagazine.com.
"Get the competitive intelligence you need to help your business succeed, with a FREE one-year subscription to Atlantic Canada's leading business magazine."
It seems to be a bi-monthly mag about all areas of business within the 4 Canadian Atlantic provinces. They seem to be quite good, as they even have a few awards listings on their website. This free item is for Canadians only. :)

Thanks to charlesknox for the image.