The Godiva Chocolatier stores are hosting a spring promotion. They're looking for ideas and in return, are giving away freechocolate brownies and chocolate truffles.
They say:
"Visit any Godivas Boutique now through March 12 and tell us what item you would love to see dipped in chocolate."
I was considering asking for a chocolate coated Brad Pitt, but I don't think they could fulfill that demand. Maybe a chocolate covered Johnny Depp? I could deal with that. No but seriously, you could probably give them some ideas for new products, I guess that's what they're looking for. They're giving out brownies or truffles, depending on the days you visit, up until the 22nd of March 2009.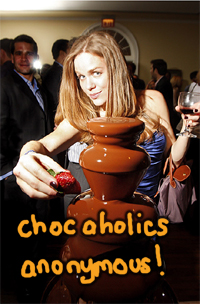 Visit the Godiva's Chocolates page for more info on this Canadian freebie.
And click here for the Godiva store locator in Canada.
I got a little fondue set a few Christmasses ago. It's perfect for melting down some yummy chocolate, and using as dessert at a dinner party. I tried it out with lots of fruit and candies… marshmallows were definitely the best. I also tried strawberries, peaches, grapes, mango, and banana. I'm not the world's biggest chocolate fan, but I did enjoy the choccie-covered fruity mouthfuls. Well, upon burning myself with the first bite, I was a bit more careful after that!
Thanks J. Walker Photography.