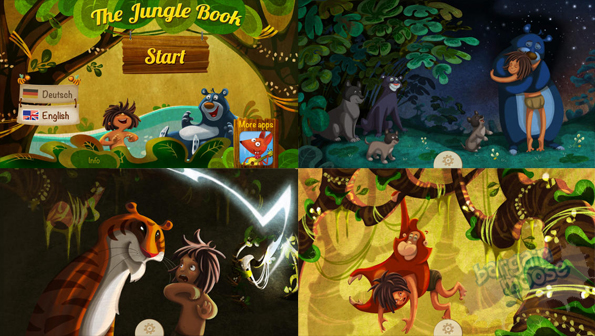 The Disney movie The Jungle Book was an extremely popular movie back in the day, but its appeal has also extended down the ages. It's still quite a timeless movie and still loved by kids of all ages, including me! Just now over on the Apple app store, there's an app which you can download – it's a lovely retelling of the movie, in illustrated ebook form. And what's even nicer, is that it's free!
The "The Jungle Book - Story reading for Kids" will be free on both iPad and iPhone, only for those of us on iOS. Sorry Androiders, this one's not for you! The app store says that this app is free for a limited time, but I have no information when that is due to expire or what price the app will increase to, after that point. If you want it, download it right now.
This customer review sums up the positive points about this free book app:
Great classic book for kids. No ads, no in-app purchases.
That's ideal. I really don't love my five year old seeing extra buttons to buy other features or additional books, and wondering why we cannot just click it and get it. She doesn't quite understand the foibles of micro-transactions quite yet!
I've just downloaded it and will be reading it with my daughter later today.
I just checked IMDB for the release date of The Jungle Book movie, and it was first released in 1967 and I was shocked, as was my fellow Mooser, Kristy! I didn't realise it was soooo long ago – that's nearly 50 years ago. I'm quite amazed how popular that this movie still is.
I've got The Jungle Book soundtrack on CD and it's regularly played in my car, for the kids when we are travelling somewhere. We're all fluent in, "I wanna be like you-hoo-hoo," and, "The Bare Necessities." Sometimes I even sing it when the kids aren't in the car with me…
Is The Jungle Book an old favourite of yours too? Will you download this app for your wee ones to read?
(Expires: unknown)