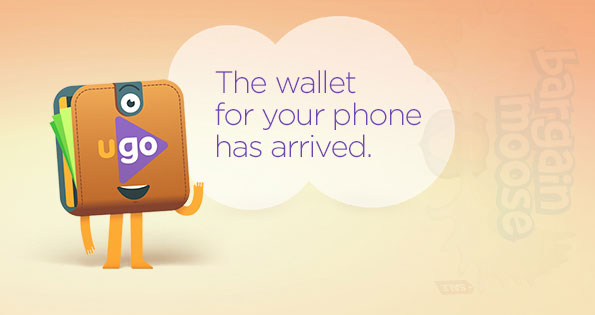 Moosers, are you ready for an incredible freebie! Sign up to UGO Wallet now to get a free $20 Ultimate dining card! Only a couple of days are left for you to claim this freebie, so don't miss your chance.
So, what's UGO Wallet and where can you use your free $20 dining card? UGO Wallet is an app that basically acts like a digital wallet that can hold of your loyalty cards and allows you to pay with your phone.
I downloaded the UGO Wallet app on my iPhone to see what it's like and was surprised to discover that it could hold cards like PC Plus, Scene, Plum Rewards, Shoppers Optimum and plenty of others.
Basically, all you need to do is add a loyalty card from within the app by entering the program name, scanning the barcode if it has one and taking a picture of the front and back of the card. Voila! Then, all you need to do is open that one app in order to access any of your loyalty cards.
With regards to the $20 Ultimate dining card, you need to follow these steps to claim it:
Register for the wallet by entering your e-mail address @ UGO.ca
Download the UGO Wallet app from either the App Store or Google Play Store
Add 2 cards to your UGO wallet
In the case of the third step, keep in mind that although iPhone users may only add two loyalty cards, Android users may enter either two loyalty cards or any other participating credit card.
The Ultimate dining card can then be used at the following restaurants: Harvey's, Swiss Chalet, Milestones Grill + Bar, Montana's Cookhouse & Bar, Kelsey's, Casey's Grill + bar, Fionn MacCools, East Side Mario's or Biet Markt.
If you decide to use your Ultimate dining card at East Side Mario's, then make sure to grab one of the printable coupons that we frequently add on the forum to save on your order or get a free appetizer.
An important detail to note is that although you need to register and download the UGO app now, the $20 Ultimate dining card will only be available in mid-August. According to UGO's "how will you know you've qualified" section, the electronic gift card will automatically appear in your UGO wallet following their app update mid-Augst. You will then need to make sure to use it by October 31st 2015.
(Expiry: 31st July 2015)