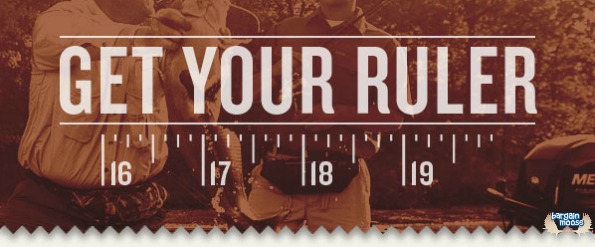 Crestliner is giving away free fishing rulers to all of you avid fisherpeople out there!
To get this freebie, you must fill in your name, mailing address and e-mail address. The reason they are giving away this free ruler is to be used to measure your catches in a fishing contest. You don't actually have to participate in this contest -- you can just request the free ruler.
If you are into fishing and would like to participate in the free Trumped contest, here's a bit more about it:
Beginning on May 10th, catch a walleye, bass, pike or crappie and measure its length with your free official ruler
Two pictures are required for submission -- the first is the fish on a flat surface with the ruler, and the second is a picture of you (or the applicant) holding the fish with both hands
Photos must be in JPEG format and cannot be digitally altered in any way
Four grand prizes of $5,000 will be given to the overall longest fish in each category
The competition runs in four different periods, from May 10th to September 9th, 2013 and you must be at least 18 years of age to participate
After you fill in your contact information and answer a few short questions such as how often you fish and if you own a boat, a confirmation e-mail will be sent to you. Make sure you check your e-mail and clink on the provided link to confirm your request for this freebie.
Your free fishing ruler will be mailed to you on or before 30th April 2013.
Thank you iihonest for posting this in our Freebies Forum!
(Expiry: While Supplies Last)