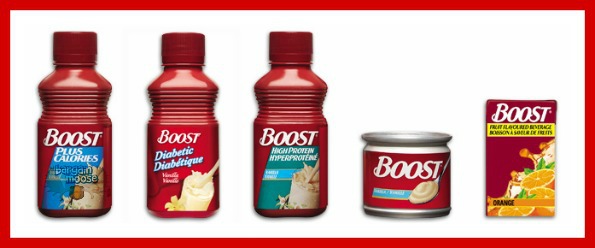 Boost Canada is giving away free Welcome Kits when you join their "Be Active with BOOST"  group.
Boost has a new program that is all about keeping your health in tip-top shape. We all know just how important it is to have healthy eating habits, but every once in awhile we just need to be reminded. Now that the cold, blistery winter days are behind us, we can spend more time outside being active.
When you sign up for this program, you will receive a FREE Welcome Kit. This kit contains a pedometer, tips on how to stay active, plus coupons to save money on your next Boost purchase.
Ok, don't laugh, but I drink Boost --- yes, that's right! I am the world's pickiest eater of all time, and it's pretty rare that I actually eat food that has a substantial amount of nutrients, vitamins, or minerals. It's been a couple of years now that I've been drinking these meal-replacement drinks, and they usually end up being my breakfast.
There are many different flavours, but chocolate is my number one choice. It tastes just like chocolate milk! For others that drink Boost for different health reasons, you can get Boost Plus Calories, Boost High Protein, or Boost Diabetic.
There is a limit of one Welcome Kit per person and you should expect your kit to arrive in a couple of weeks.
Want more free stuff? Check out our Bargainmoose Freebies Forum.
A special thank you to my fellow author, Eva, for giving me the heads up on this freebie!
(Expiry: While Supplies Last)